Day 135: Look at that form! He's quite the little slugger! :)
Day 135 (photo 2): The kids' new favorite game - T-Ball! :) I love watching them play!! It's amazing how well they understand the game already!! Too bad we couldn't get Trev on a t-ball team this summer - def next summer!!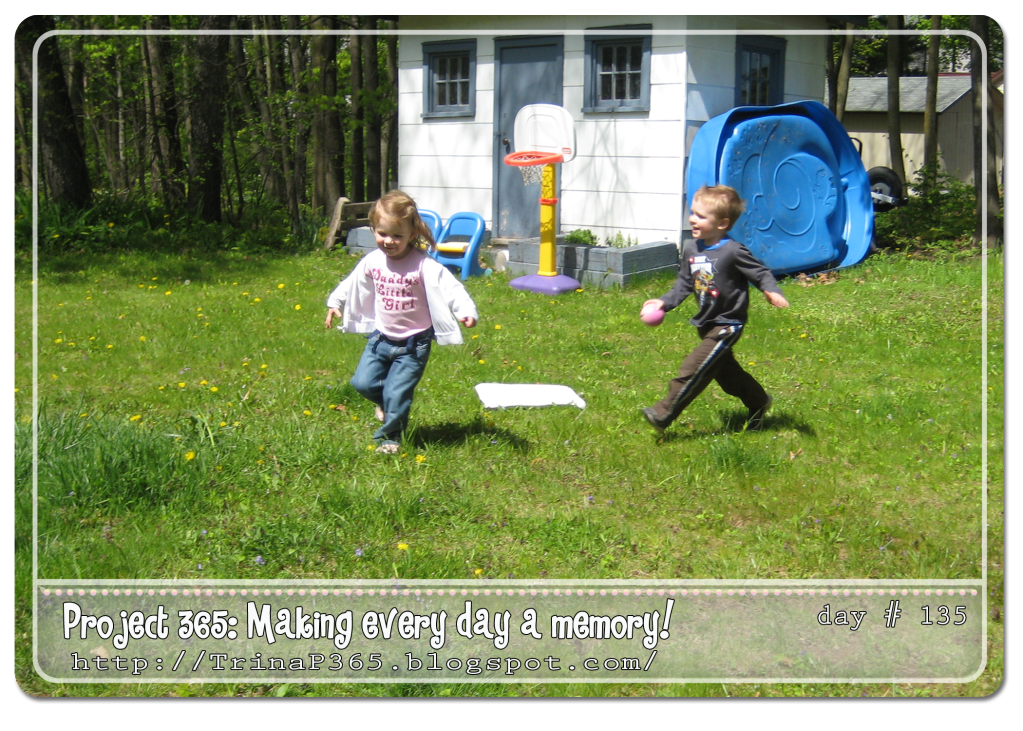 Day 136: We had a great visit with the Stenslands this weekend!! I wish we lived closer - the kids all had a good time together - once Jacob got used to Kaylee's "in your face" style! LOL :)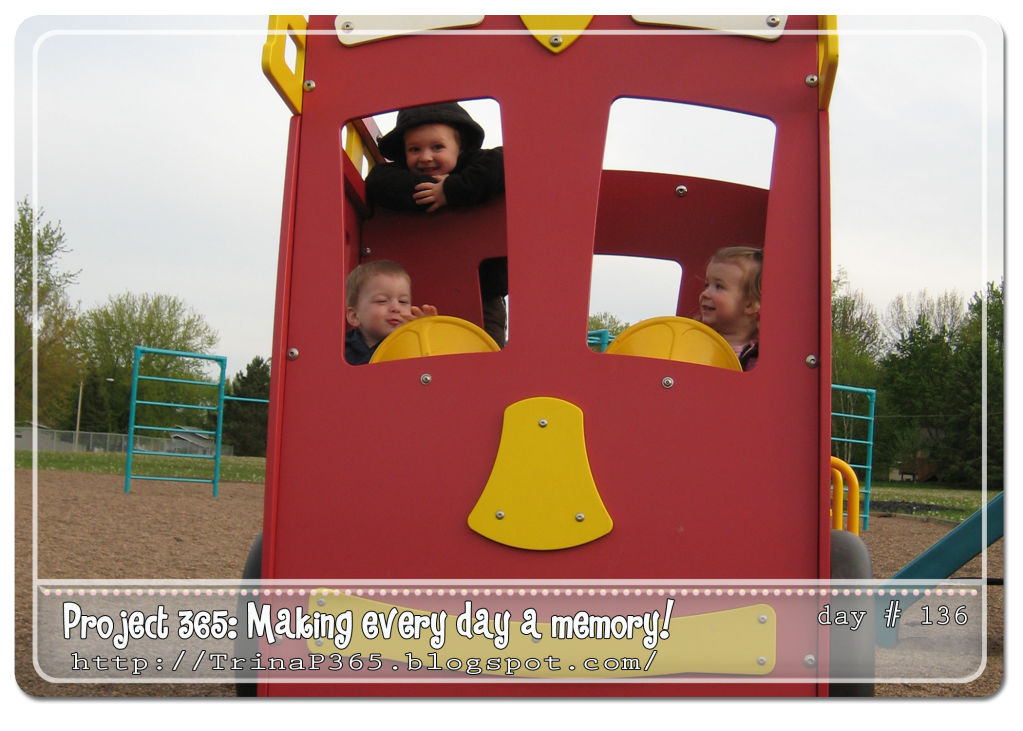 Day 137: ANOTHER BEAUTIFUL DAY!! WHOOO HOOO! We've been having a LOT of fun playing outside! Drawing with chalk, painting with water, playing t-ball.....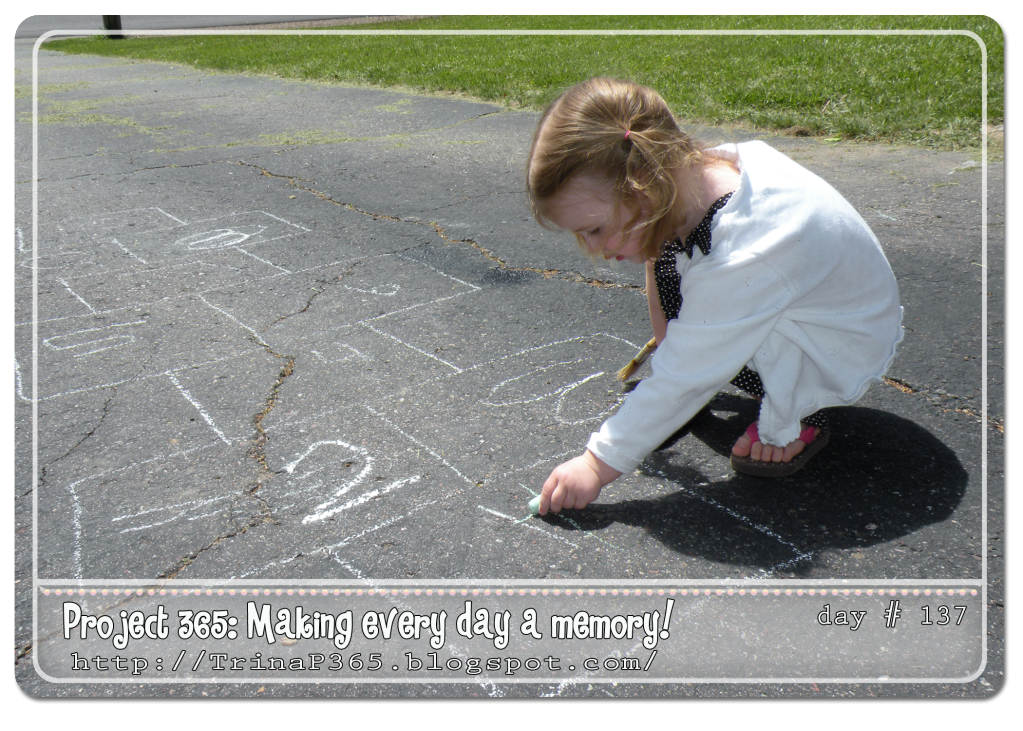 Day 138: Had a fun day with Alexandra Paff today!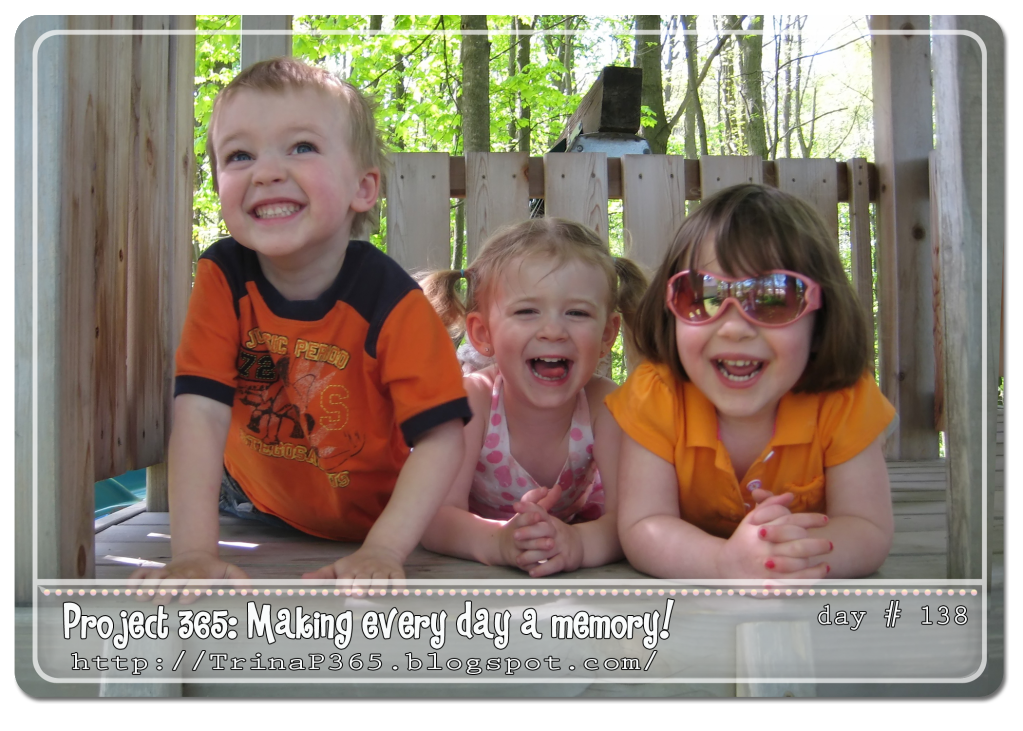 Day 139 (photo 1): A nice sunny day for our bike ride! Look closely - I'm pretty sure this is my first belly shot! LOL!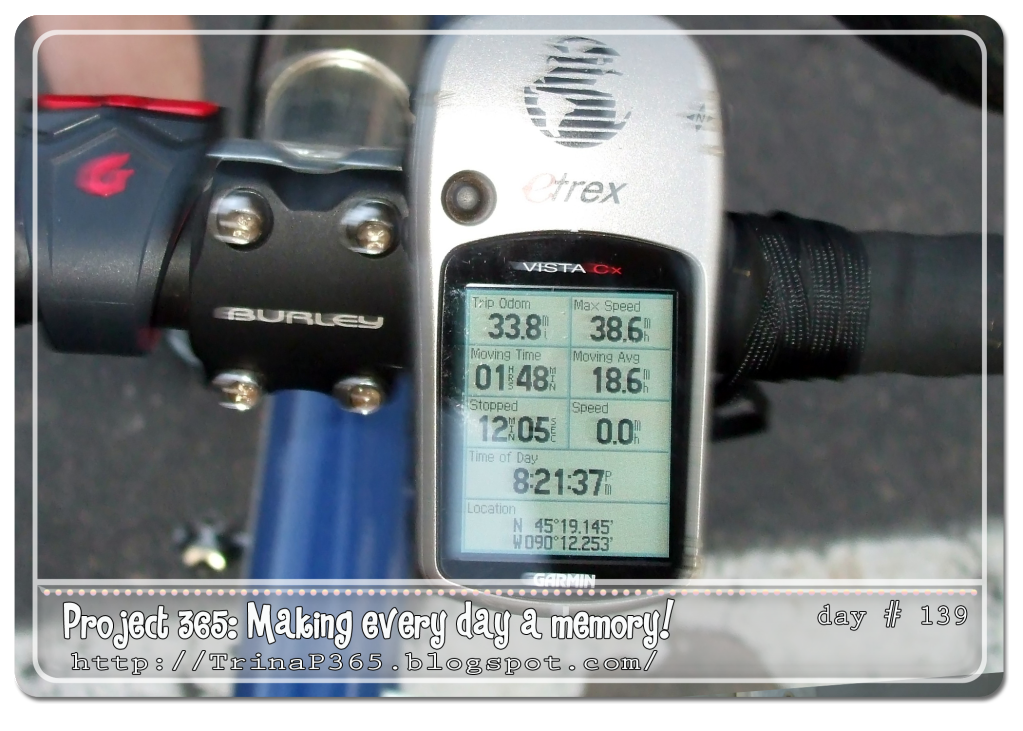 Day 139 (photo 2): Getting close to the end - moving shot of the GPS - my toy to play with when we ride!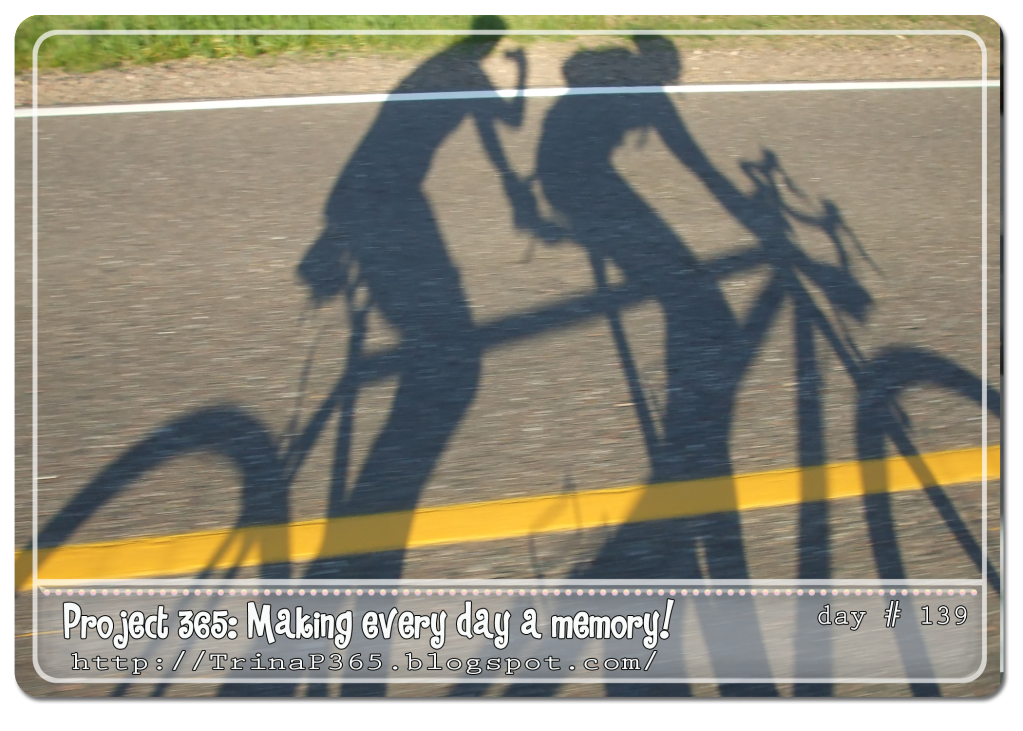 Day 139 (photo 3): Our final numbers for our bike ride: 33.8mi, avg speed 18.6mph, ride time 1:46 (that includes one pee stop - LOL!)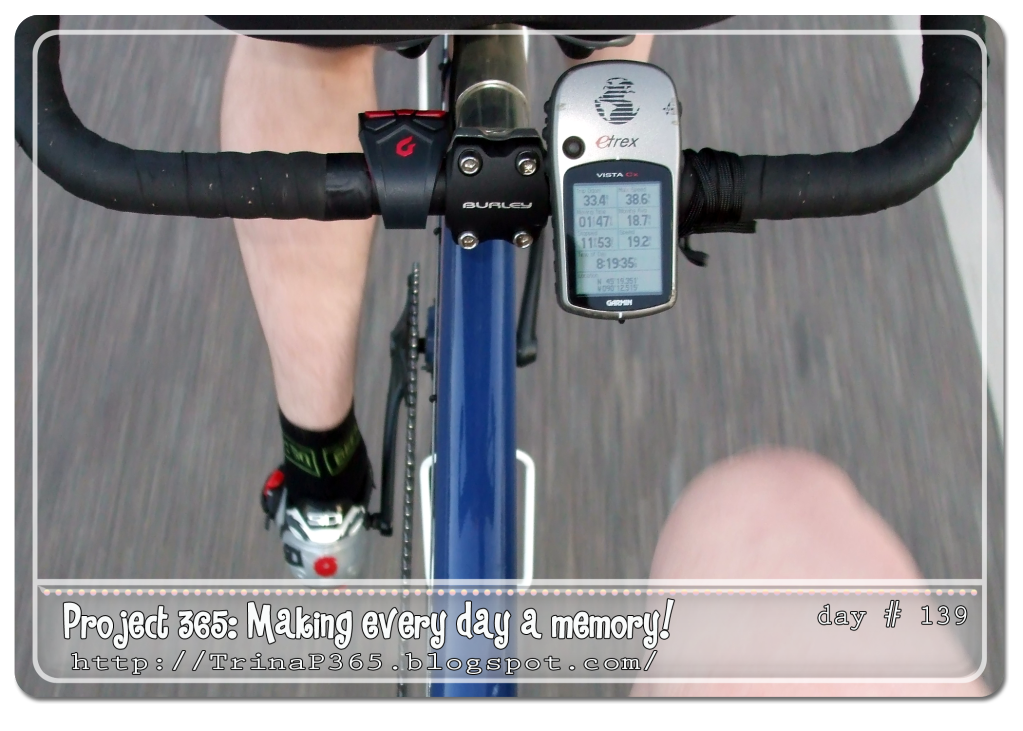 Day 140 (photo 1): Got to visit Andrew Paff today - soo cute! :)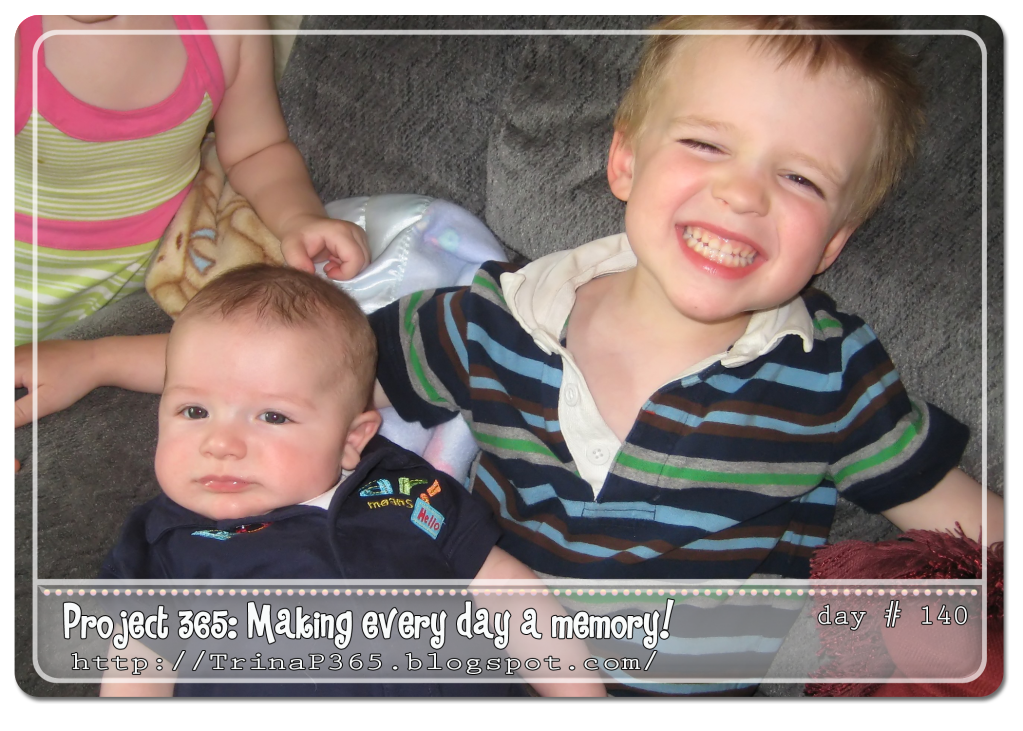 Day 140 (photo 1): Kaylee had to get in on the action too! The kids both LOVE babies!!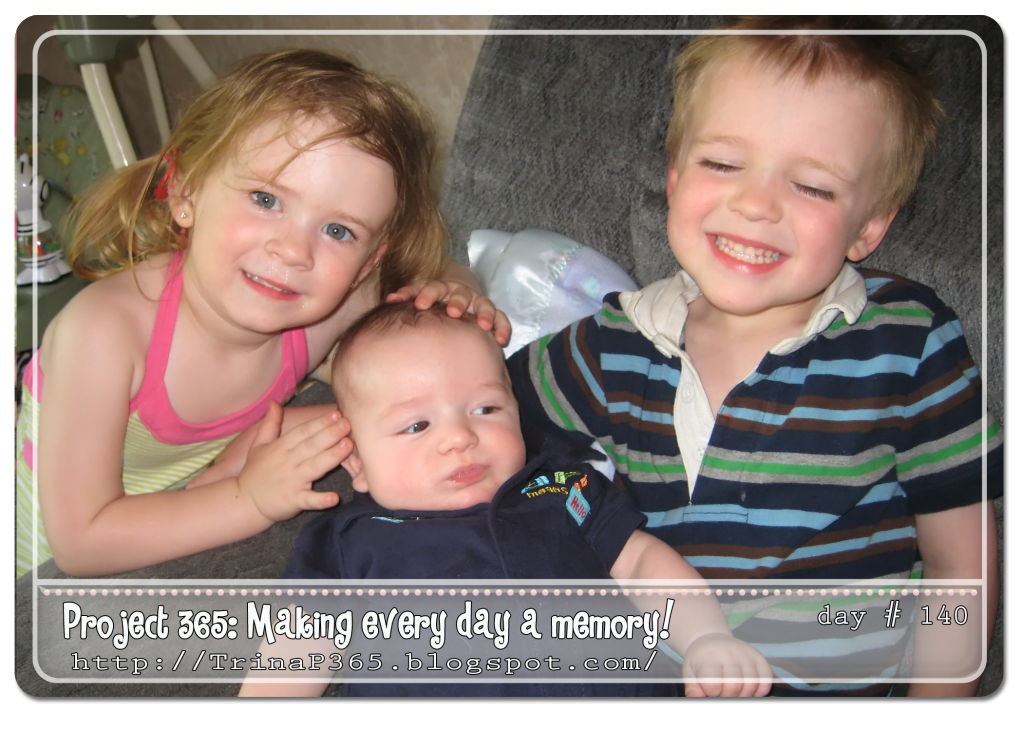 Day 141: Got the rest of my black dirt today for our mini garden! Grandma Ann & Kaylee started the planting by planting Trevor's two bean plants from the library.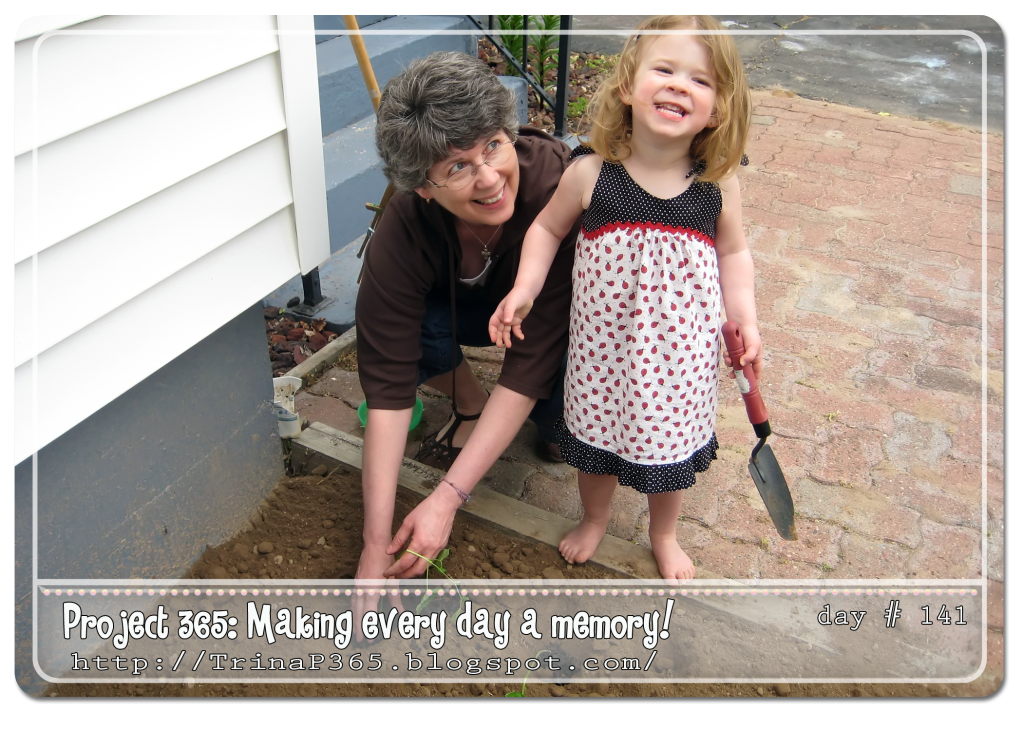 Day 142 (photo 1): I thought I did a pretty good job on the cake for today!! The grey isn't the smoothest, and the white line across the red circle isnt centered the best....but overall I think it looks pretty good! :) (BTW it's Ratchet the transformer (animated version) - made with the Wilton "Van" Pan (I had to cut the cake to shape it more like ratchet and free hand the colors)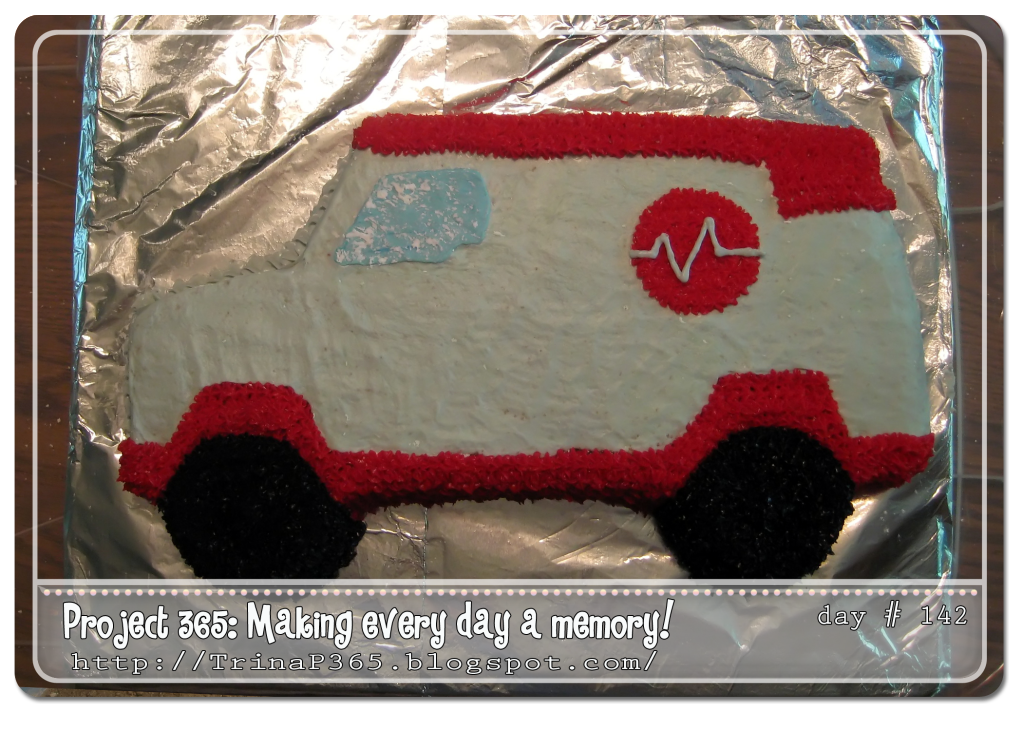 Day 142 (photo 2): The Zenner crew (plus two) - at Trev's birthday party! I was so glad they could all make it! :)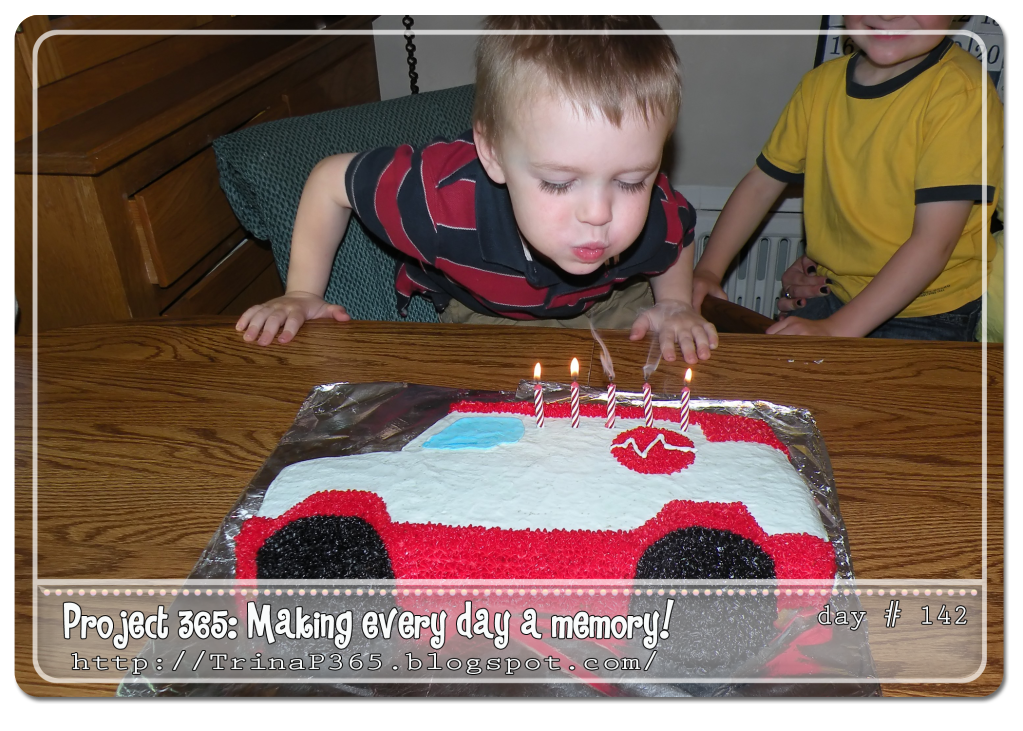 Day 142 (photo 3): Trevor with his Ratchet Cake and FIVE candles!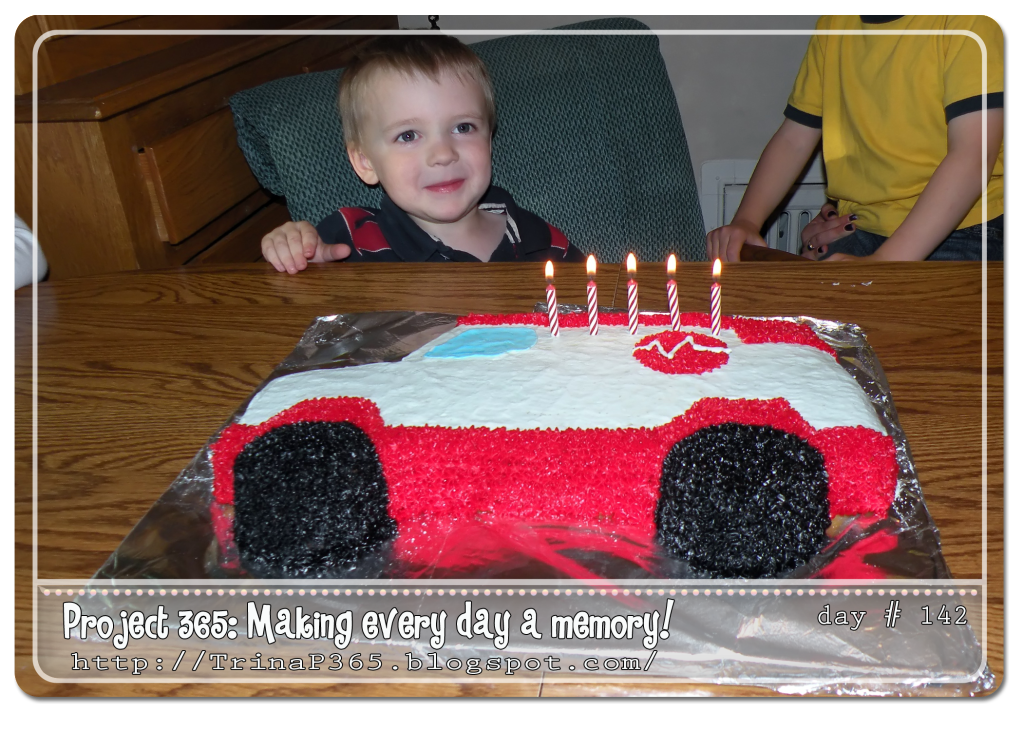 Day 142 (photo 4): Trevor blowing out his candles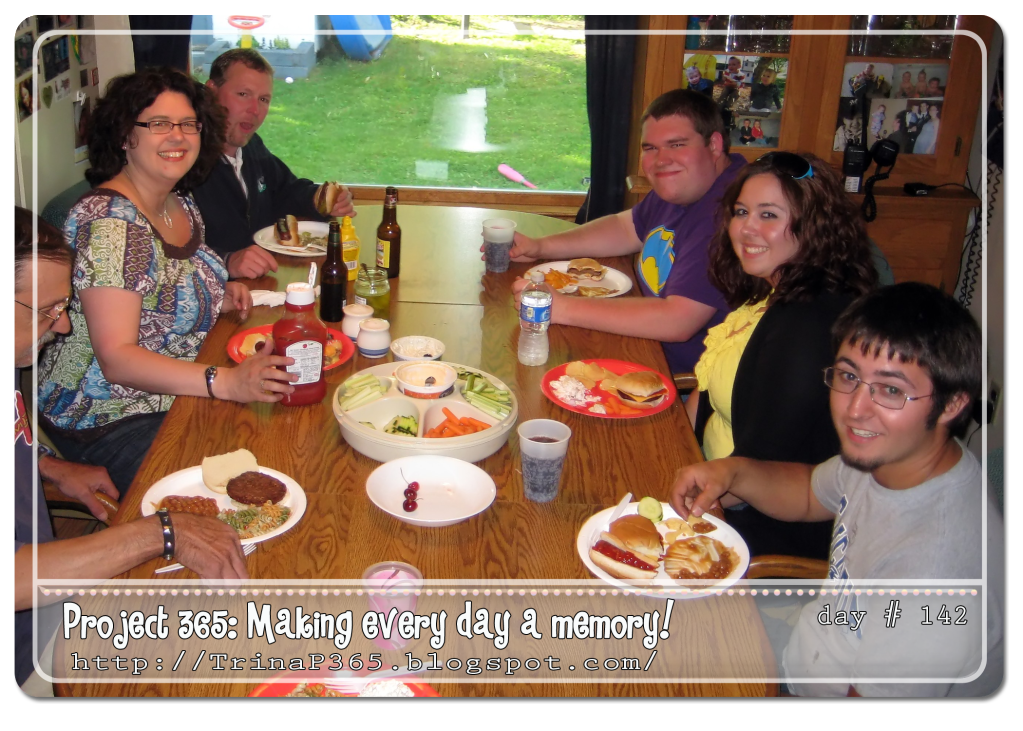 Day 143: Our first corn on the cob for the summer - both the kids love it - almost as much as I do!! :) Was a little nervous about the early batch - but boy did it taste good!!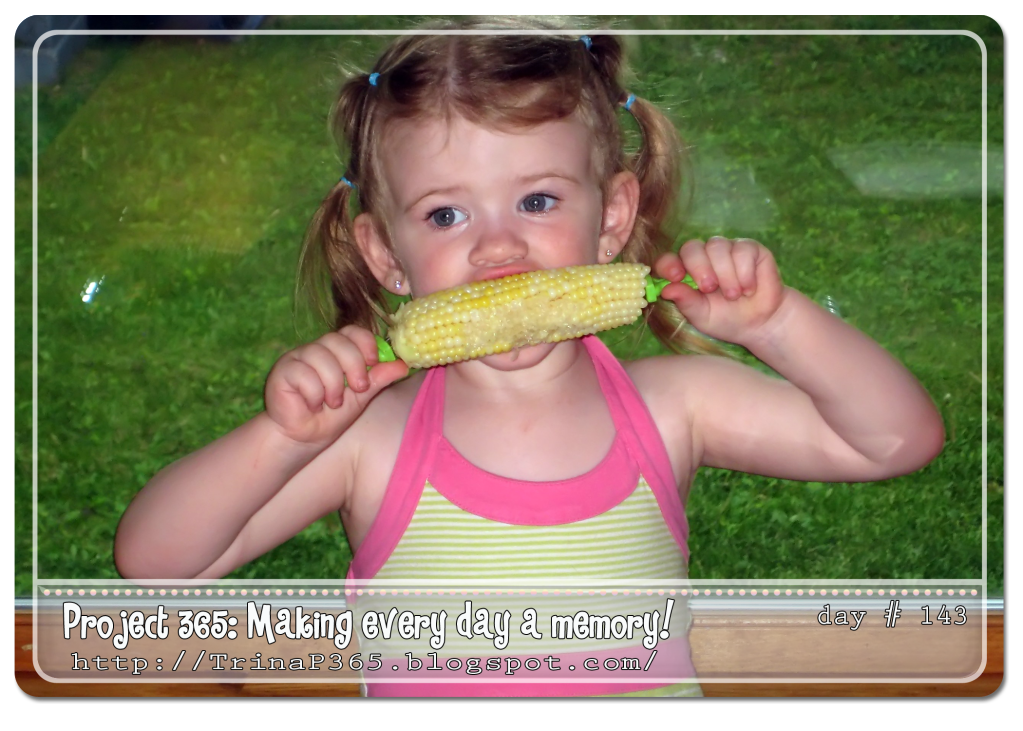 Day 144 (photo 1): We had a party at the park for Trevor's classmates to celebrate his 5th birthday. I'd say overall the kids had a great time - even if it was 90* out! Here are a few of the boys who came: Caleb, Dylan, Trevor, Vincent & Connor.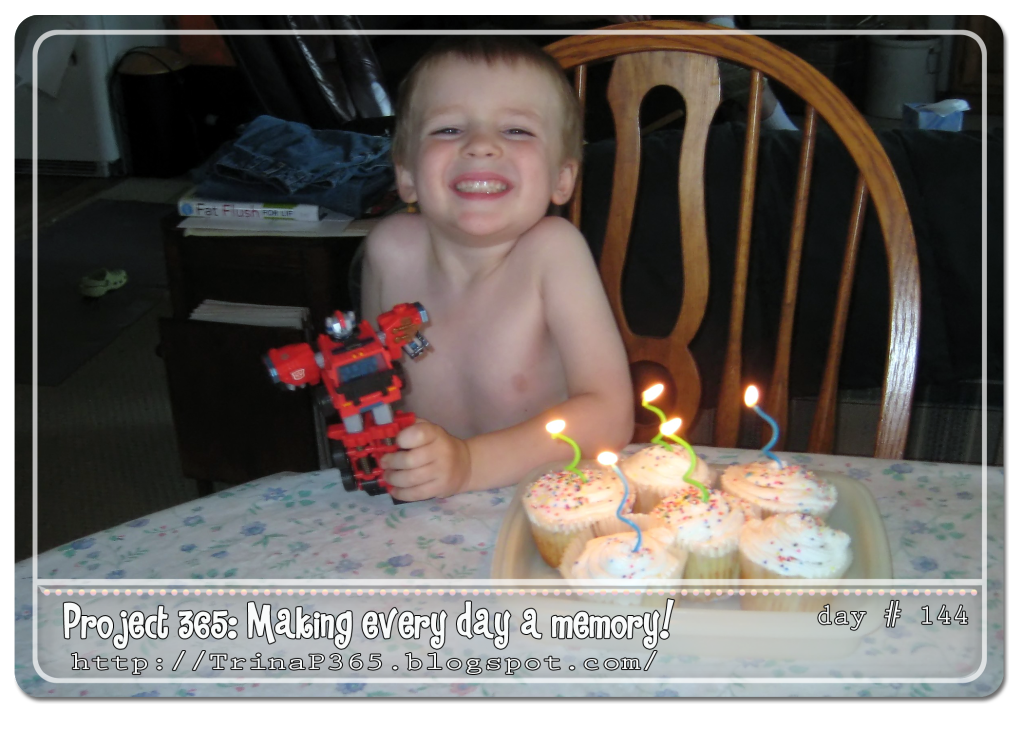 Day 144 (photo 2): Had cupcakes out at Grandma Ann's & Grandpa Trent's house for supper!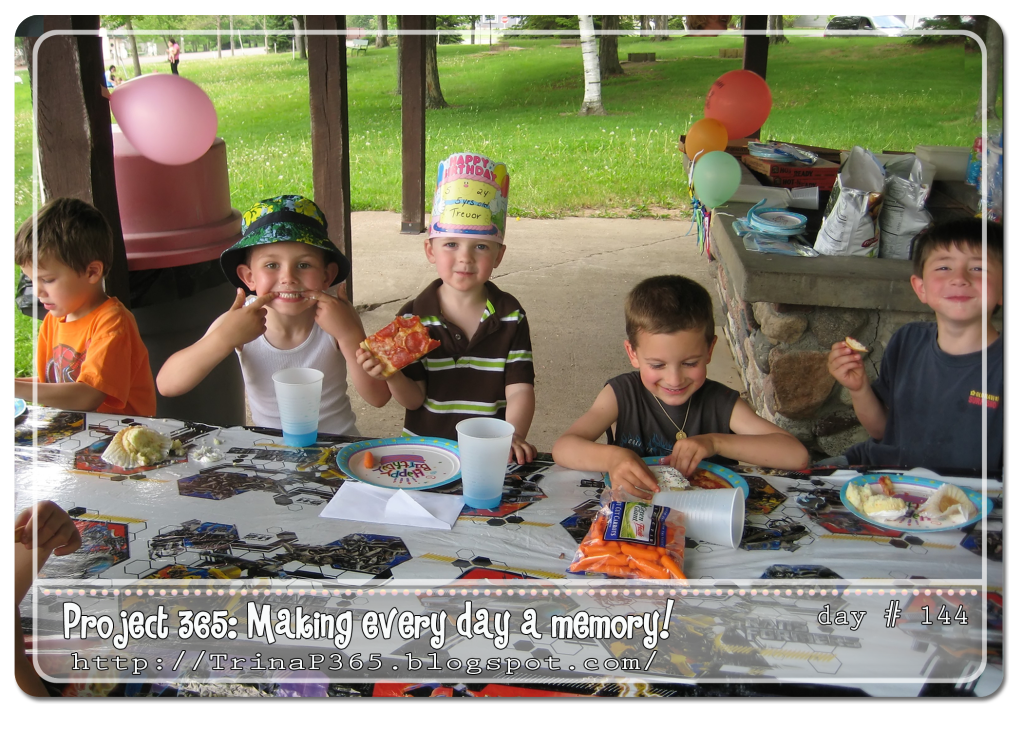 Day 145: Kaylee's new favorite cereal - Grape-nuts! LOL! For some odd reason in the middle of eating cereal, she decided she had to go get her goggles - she asked if she looked cute! Hee hee. Not the best quality picture...but funny anyways :)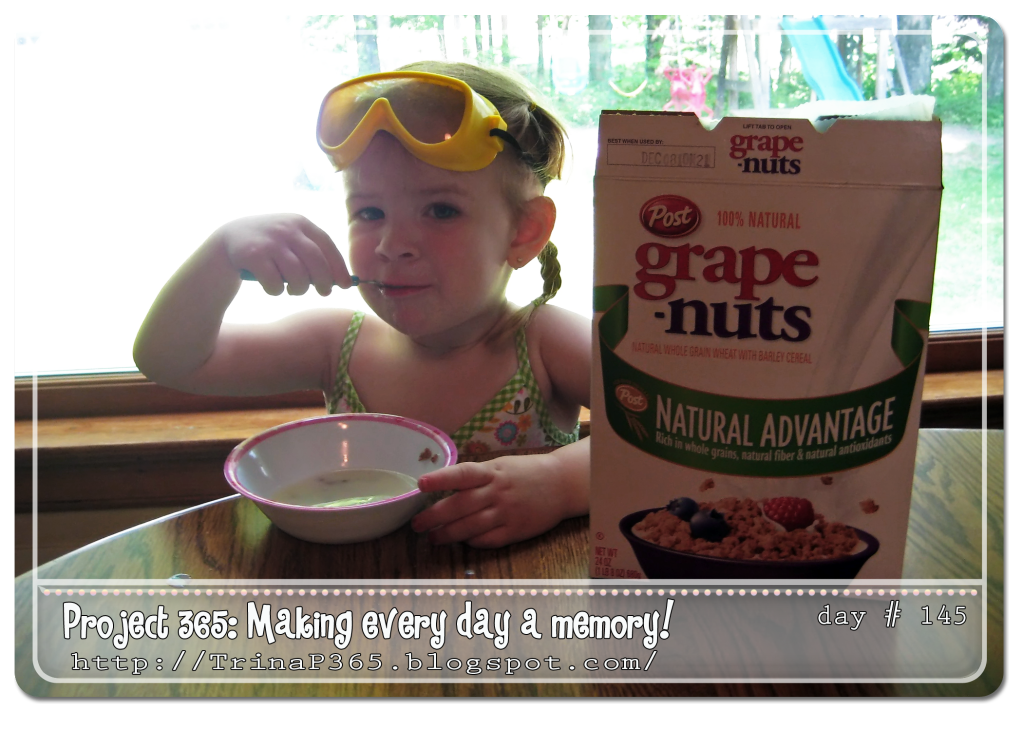 Day 145 (photo 2): Welcome Julia Ann Snyder! We're soo happy that you've joined our family! Can't wait to meet you in person!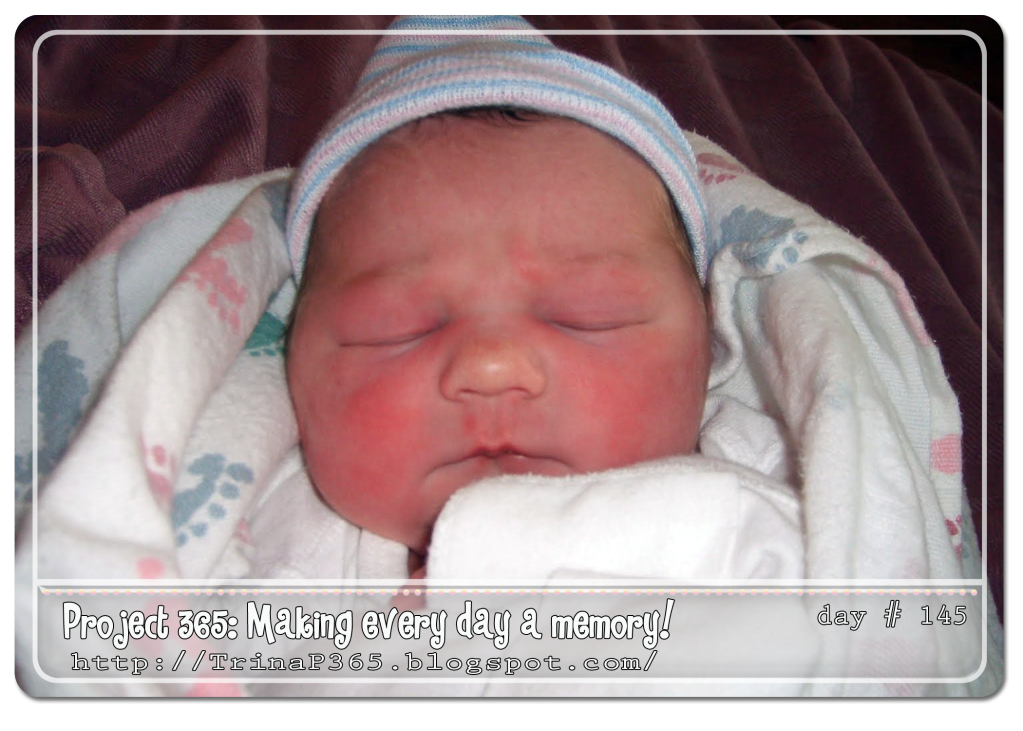 Day 145 (photo 3): Grandma Ann, new BIG Sister Katie & Julia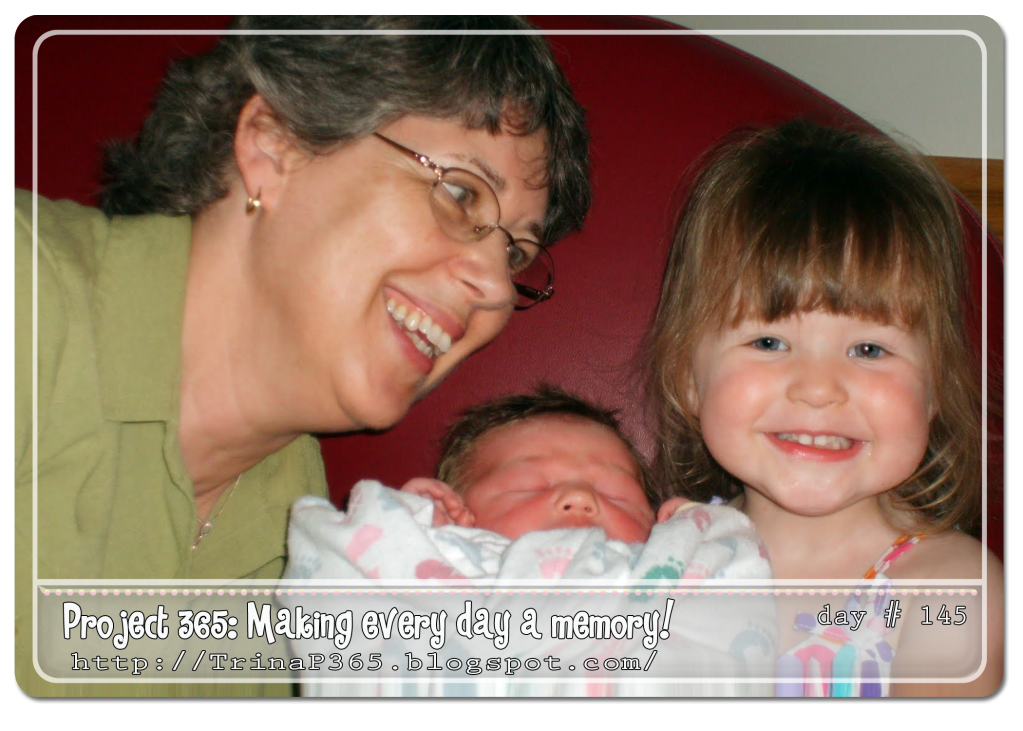 Day 146: Trevor got to go shopping today to spend some of his birthday money - surprise, surprise, he chose some more transformers!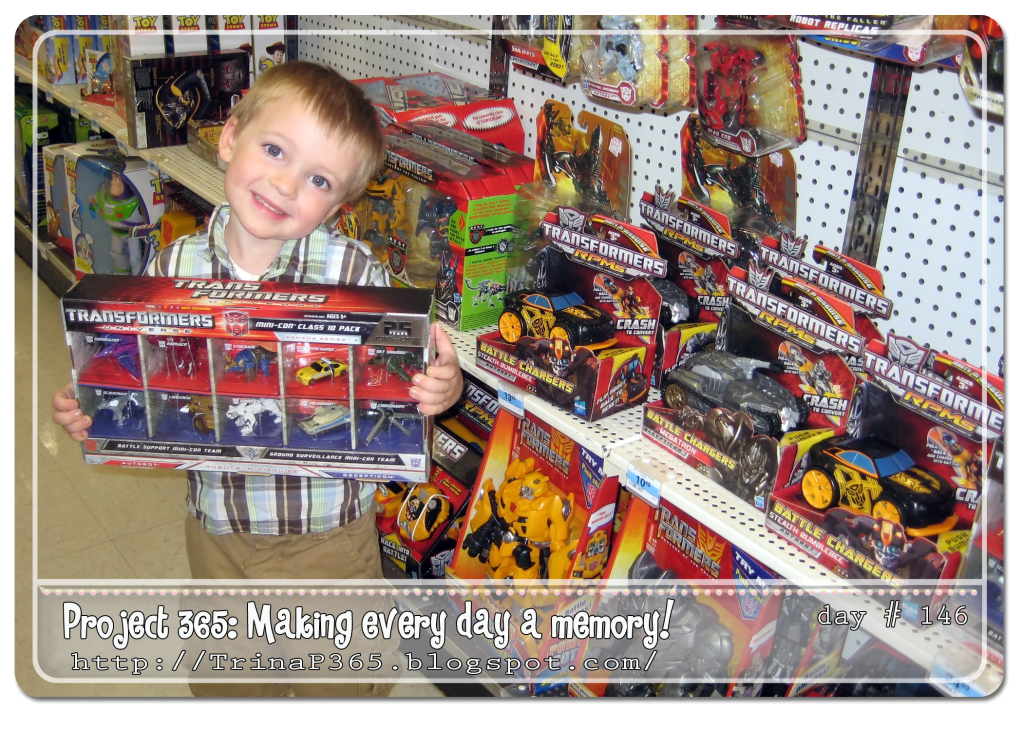 Day 147: Trevor got to have Caleb Egle over for the afternoon today - as a way to have a "special day" since Kaylee is in Minnesota with Grandma & Aunty Kassy. These boys were sooo silly together - it's great to see how well they can play together! Here they are eating ice cream together and Caleb asks "Trevor you're going to always be my friend, right?" It was just too cute!