Here are all the photos from last week! :)
Day 46: Before we headed back home - we spent the morning with "The Girls" - the kids love it when we can hang out with Emilee, Ailie & Maija! We grabbed lunch at the new Italian resteraunt in town - it was pretty good!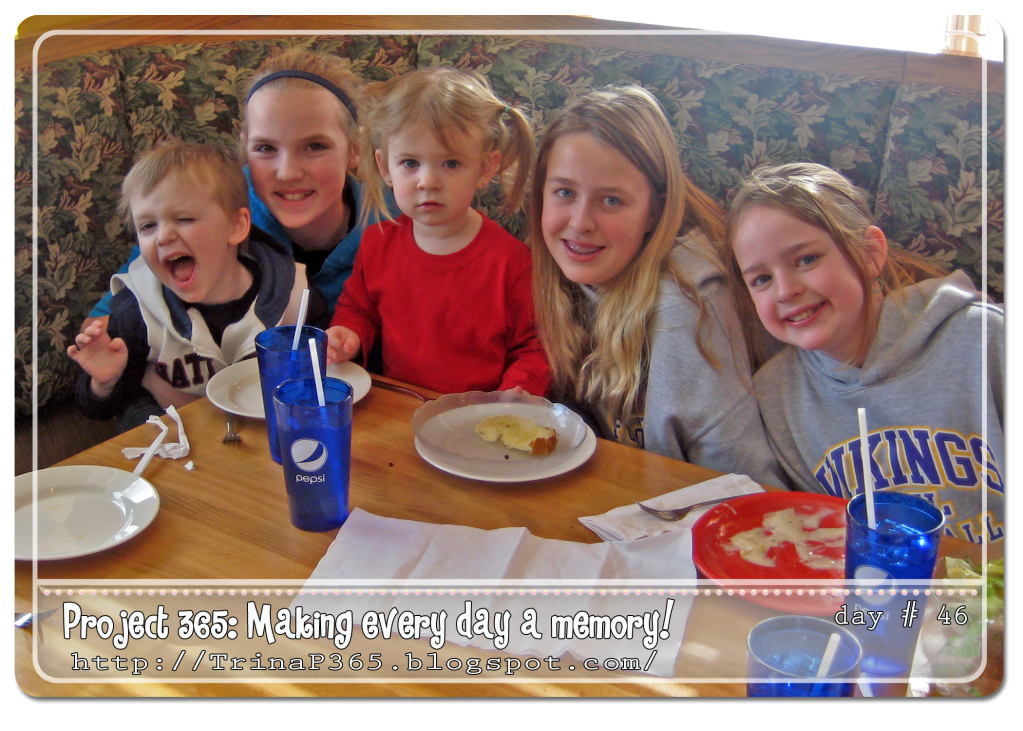 Day 47: Since the weather was decent & sunny today I decided to tackle chipping off all the ice off of our driveway - the kids must have gotten bored with it - because soon Kaylee was asking to walk down to see Grandpa at his office - and since it was basically noon and I knew he'd probably be coming up for lunch anyways - I let them head down the trail to see him! I wonder how many more times in the next coming weeks and months they'll be doing that! Sorry Grandpa ;)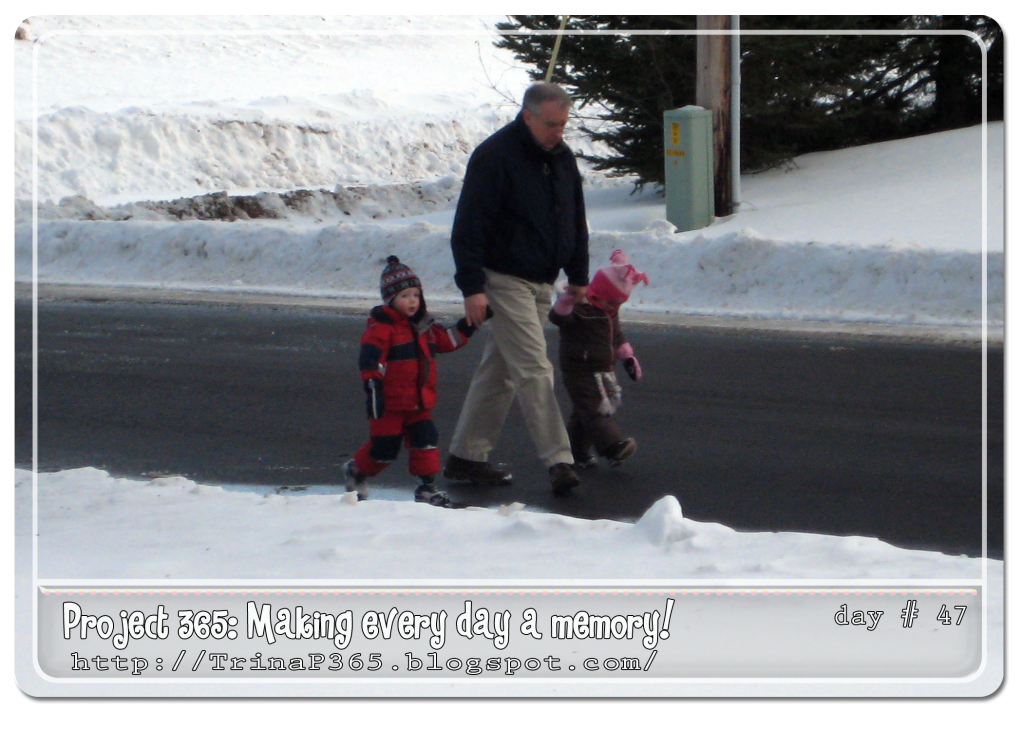 Day 48: "Happy" Ash Wednesday! Today marks the beginning of Lent, and I've decided to try to not turn on the computer in the mornings where its just Kaylee and I home - she makes it so easy to just pop in a movie, and while she watches the movie & eats breakfast - I get to scrap for an hour. I'm going to try to do more crafts/projects and stuff with her. It'll be good for both of us - but I'm sure going to miss that scrap time!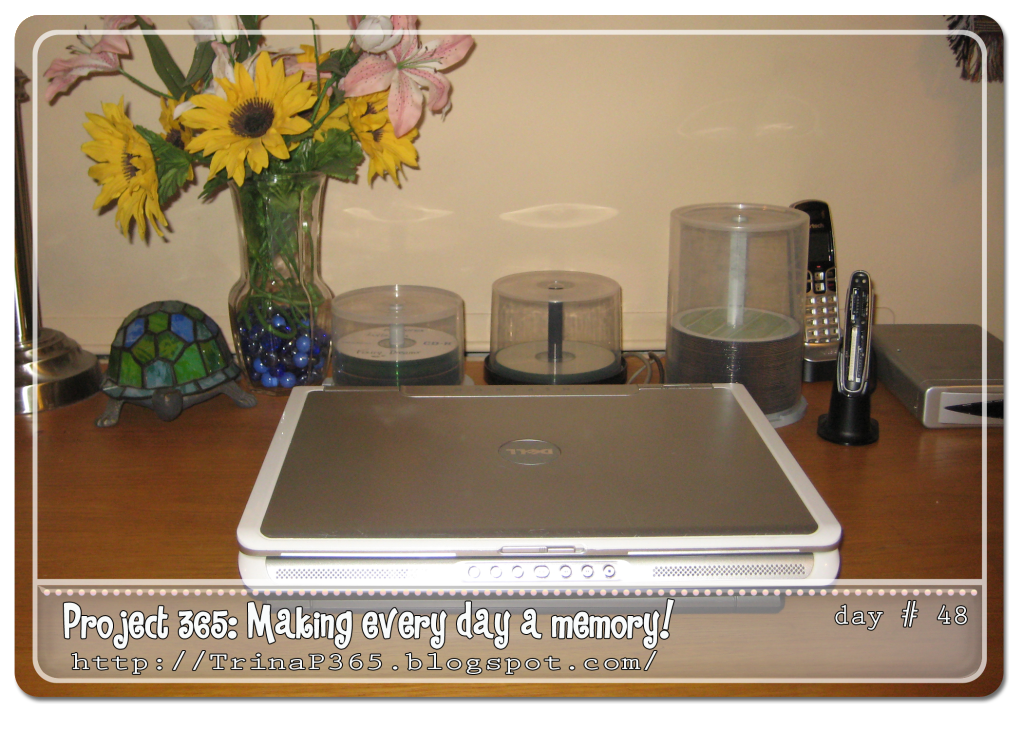 Day 48 (photo 2): After the kids' baths they were listening to their "new" book on tape - they were sharing sooo nicely and looked so cute - I just had to take a picture!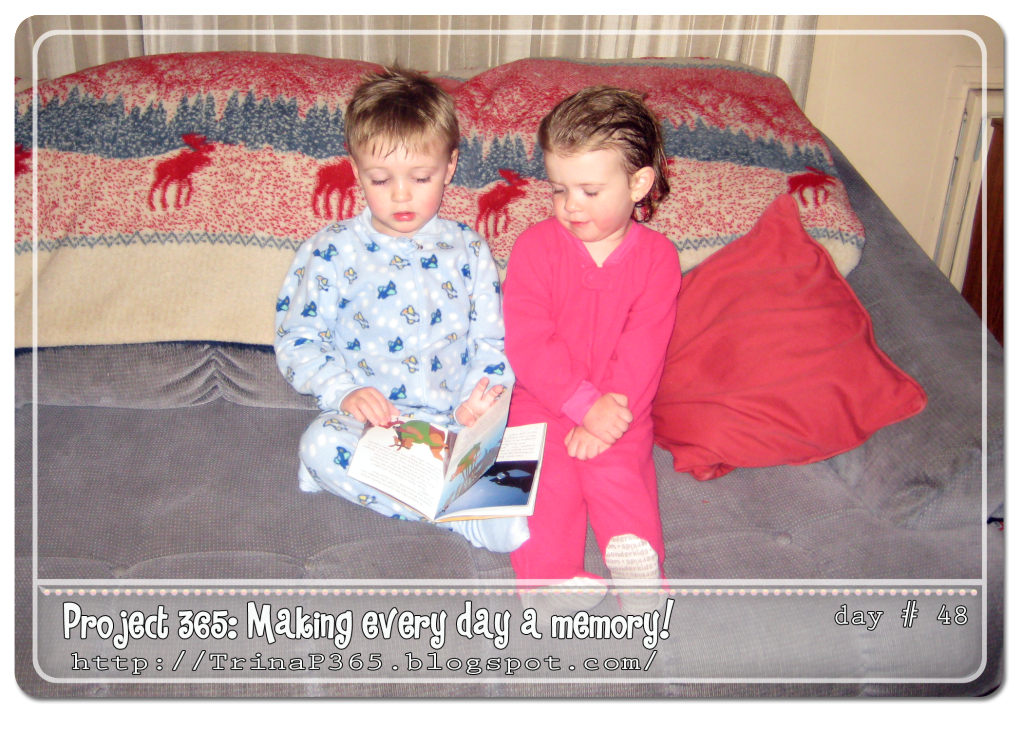 Day 49: Today was another playgroup for Kaylee while Trevor was at school - this time it was the one for Mom's & Munchkins! I just love getting together with these moms! Here Kaylee is with Addison - she loves to follow her around!
Day 49 (photos 3-4): Since it was ANOTHER beautiful winter day - I decided to go get a car wash - the van was in dire need! Trevor loved watching the bubbles and the water & Kaylee screamed and wanted to go out - try explaining to a 2 year old that you can't go out when the garage door was closed! Poor girl! The 4th photo is just a random one from inside the car wash - shows that it was 35* out! BEAUTIFUL!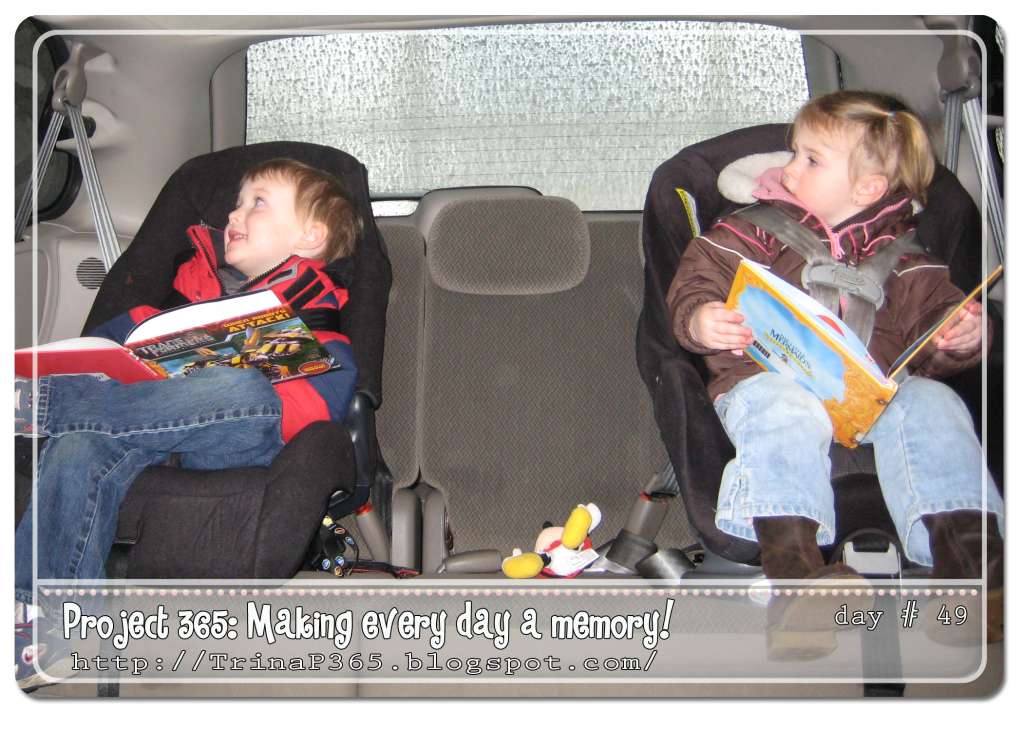 Day 50: Wow! Who would have thought that I'd make it 50 days! Thats 1/7 of the way there! LOL! I might not be posting as often as I would like - but at least I'm still taking photos (that's the easy part!) Anyways - today I tried something new for cleaning out our slow drain upstairs in the bathroom - I used baking soda, vinegar & boiling water to clean it out! It was fun to watch (says the scientist in me!) and it worked like a charm! No more drain-o for me! :)
Day 51: The Anderson's came over for a visit this weekend - and it was a great weekend to have them around! The weather was beautiful all weekend! We spent a good deal of time outside - in the AM with the kids and in the PM with just us adults - as the kids napped! We had mini snow-ball fights and even got in a little snowmobile ride!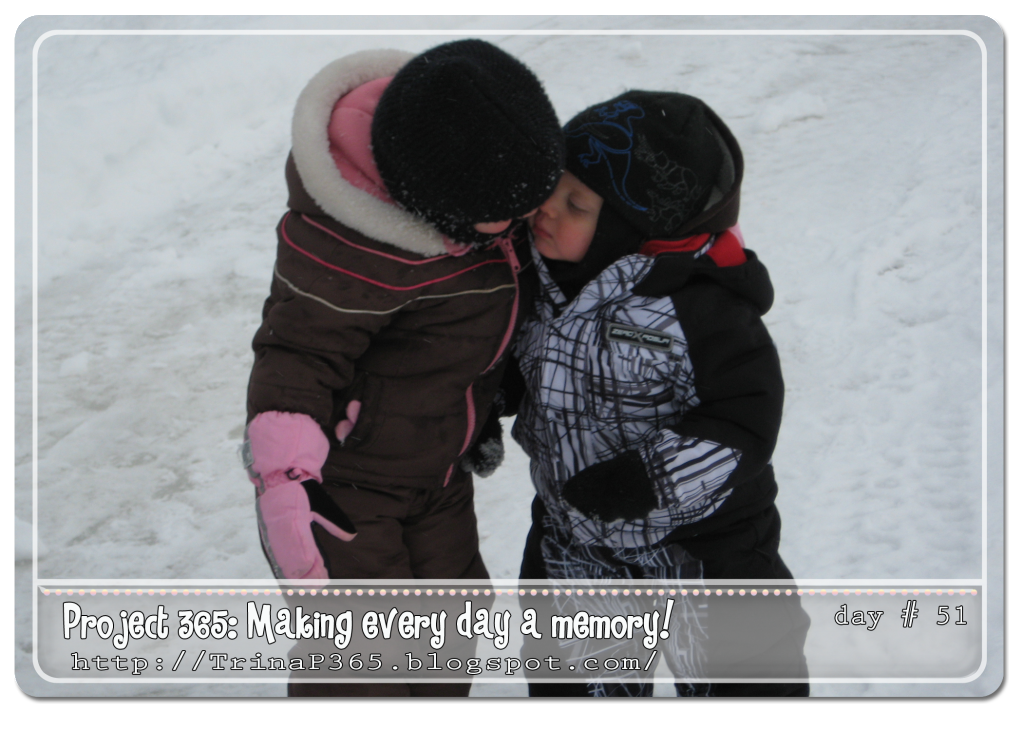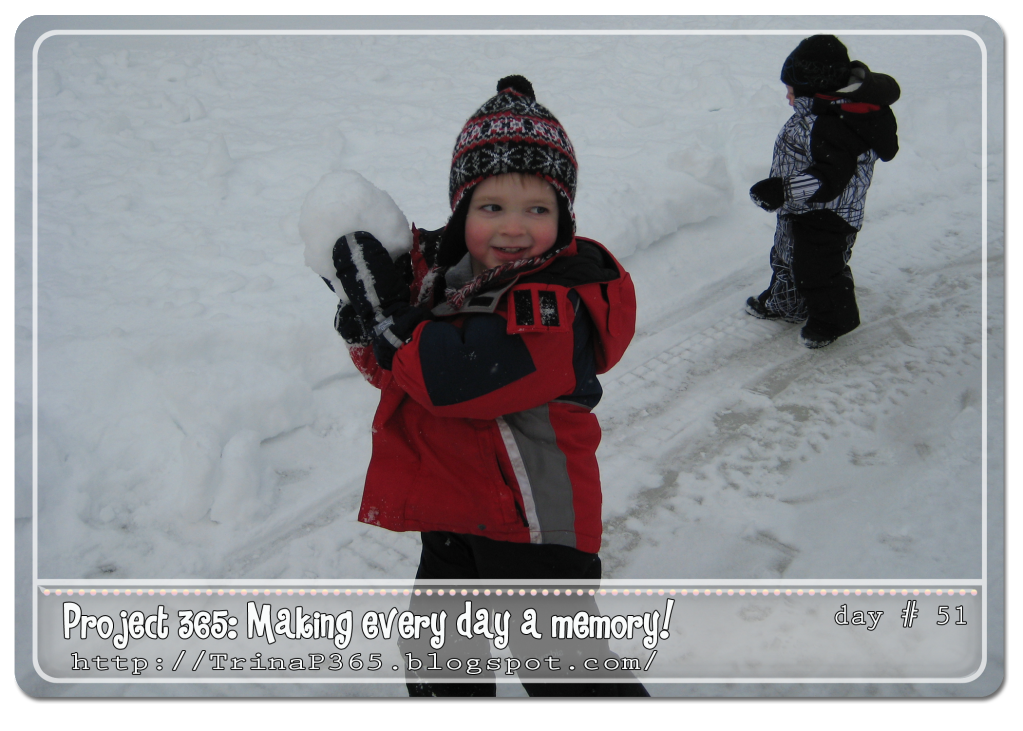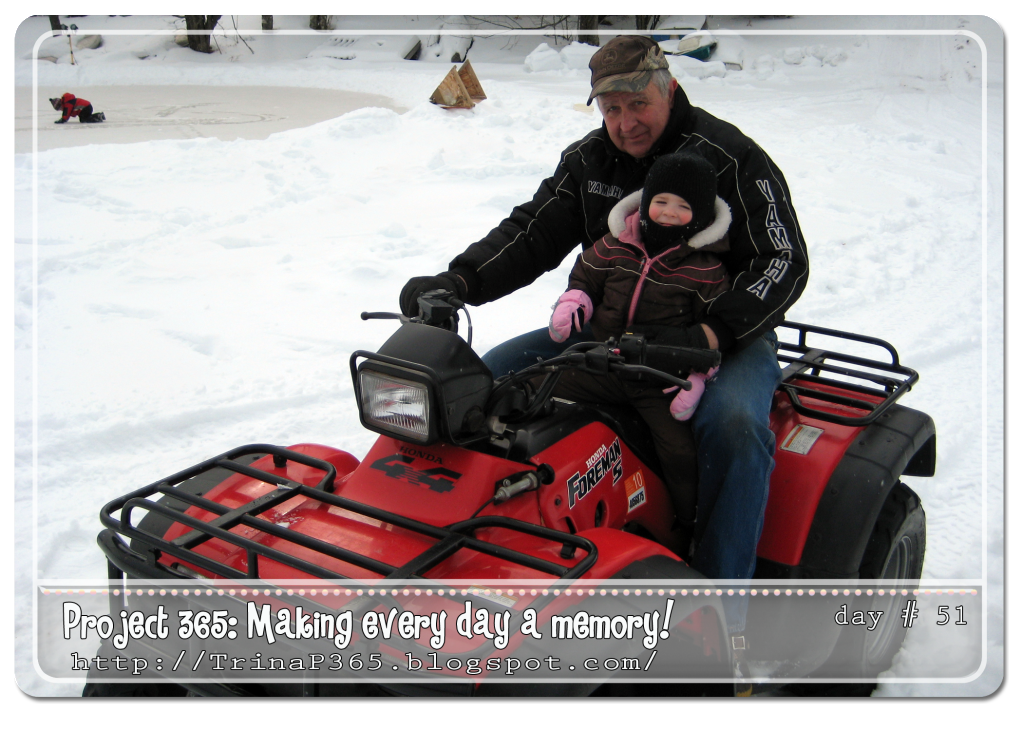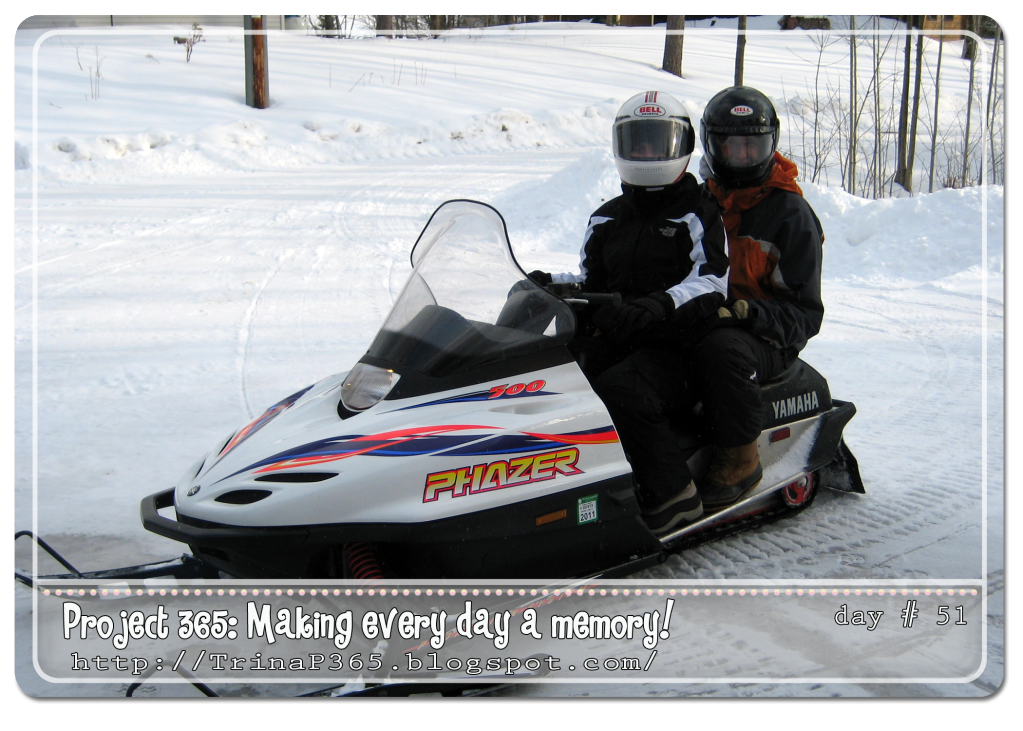 Day 52: Wow! We are really getting spoiled with all thsi nice weather! Today we took the kids, Grandma Ann & Grandpa Trent out snowshoeing! We took this picture before we began - which was a good thing - because about 3 min after - Kaylee wanted in the backpack! LOL - she did get out later and try again - but it's a lot of work for her little legs! Trevor did GREAT and actually walked quite a long ways - he got a kick out of trying to make himself (and us) fall down! I like the way Kaylee is totally not looking at the camera - she was too impressed with how quickly I could run in snowshoes! She was like "WOW Mom! You're fast!" I set the time and had to RUN to get into the snow - I'm sure it did look pretty comical!