Day 53: Tom has another week off - which means more "Mario Time!" LOL! :) We've been having fun playing New Super Mario Brothers for the Wii (again - we beat it once - but now we're going back and collecting all the star coins!) How pathetic is that? LOL But its fun....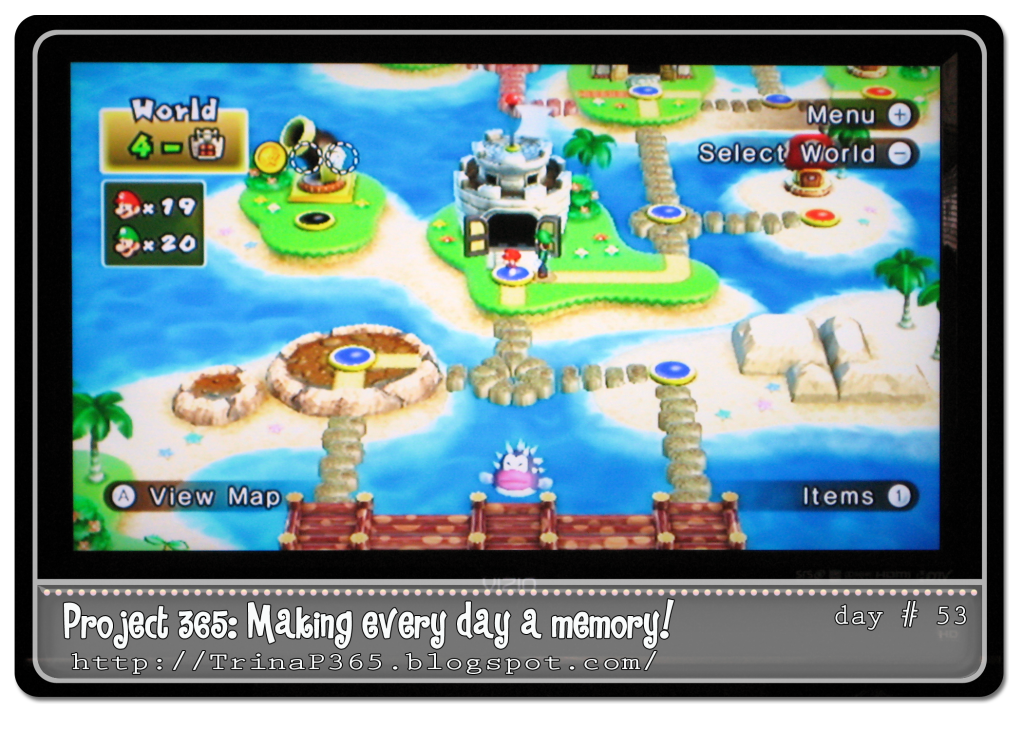 Day 54: Today was an early release day - so Trevor didnt have school! We spent the day bumming around Eau Claire - here's Trevor trying out some Hockey Gloves - he's pretty tough isn't he? LOL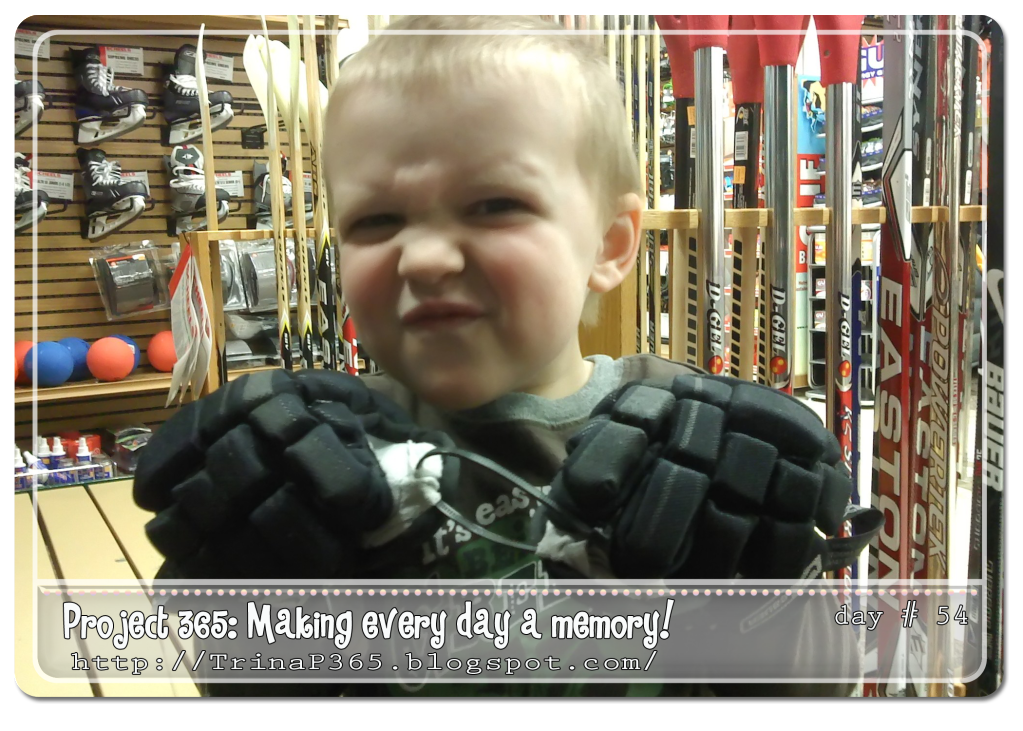 Day 55: I was cleaning out Reese's cage (our guinea pig) and Tom and Kaylee thought it would be a good idea to see if Kaylee fit in the top part of the cage - and yep she did! :)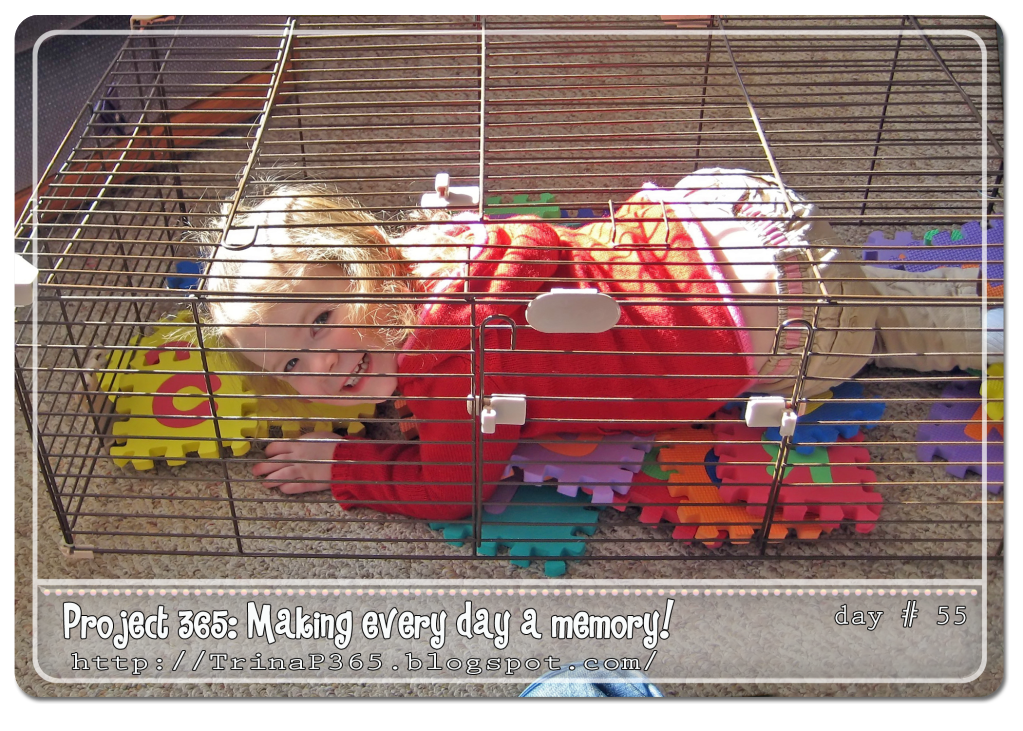 Day 55 (photo 2):
We had the Daniels' over again for lunch! :) The kids all play so well together - its fun to watch them! We had a nutritious meal of chicken nuggets, cantaloupe, oranges and french fries! :) Yumm!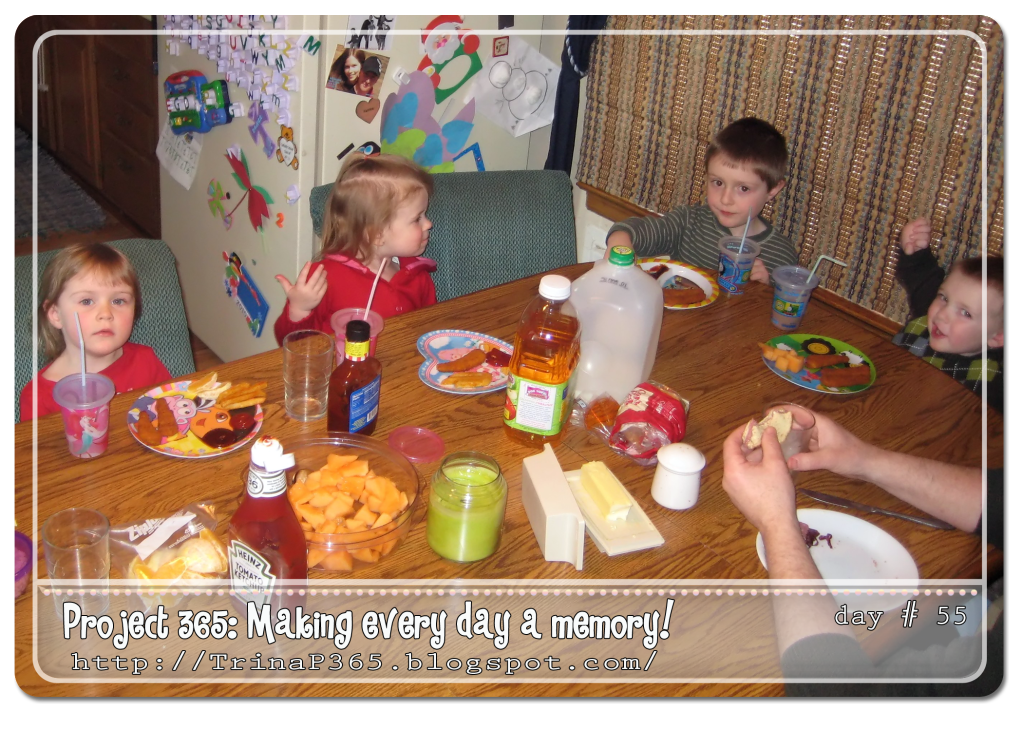 Day 55 (photo 3):
Trevor and his new best friend - Carter!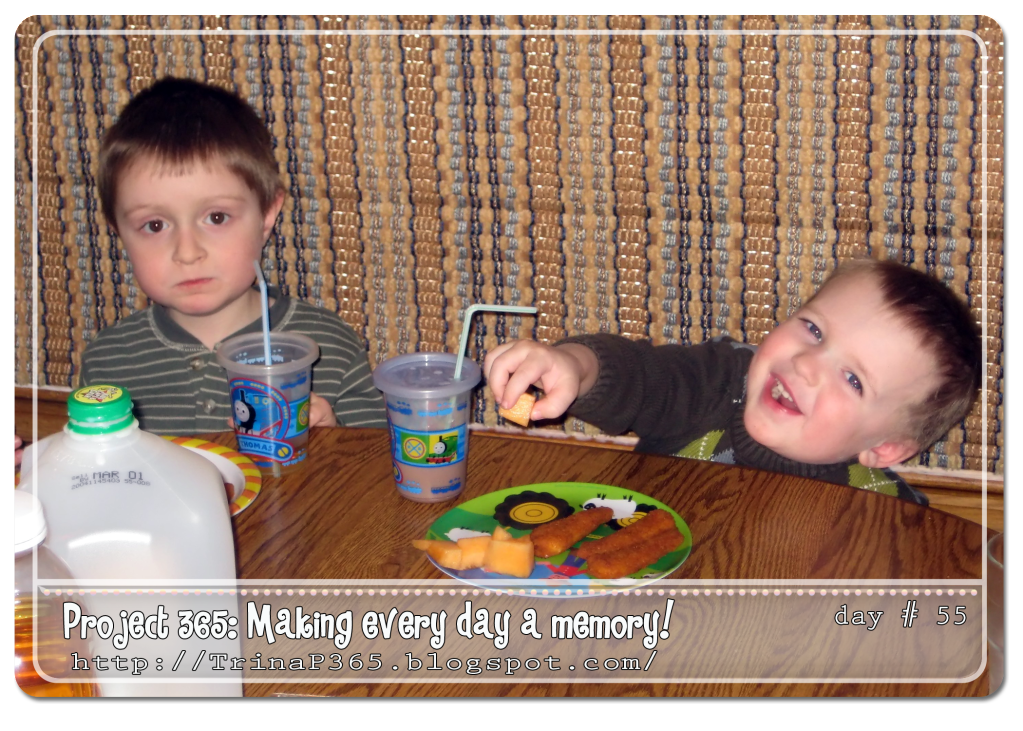 Day 56: WHOO HOO! My first day subbing! It was a hectic day as I filled in for two different specialists - which meant a lot of bouncing around - but it was perfect! I got to meet a lot of different staff and get a good tour of the building! I answered phones, had recess & lunch duty, helped in the pre-k room, tutored math and helped the pre-k afternoon class get their gear on and get on the bus!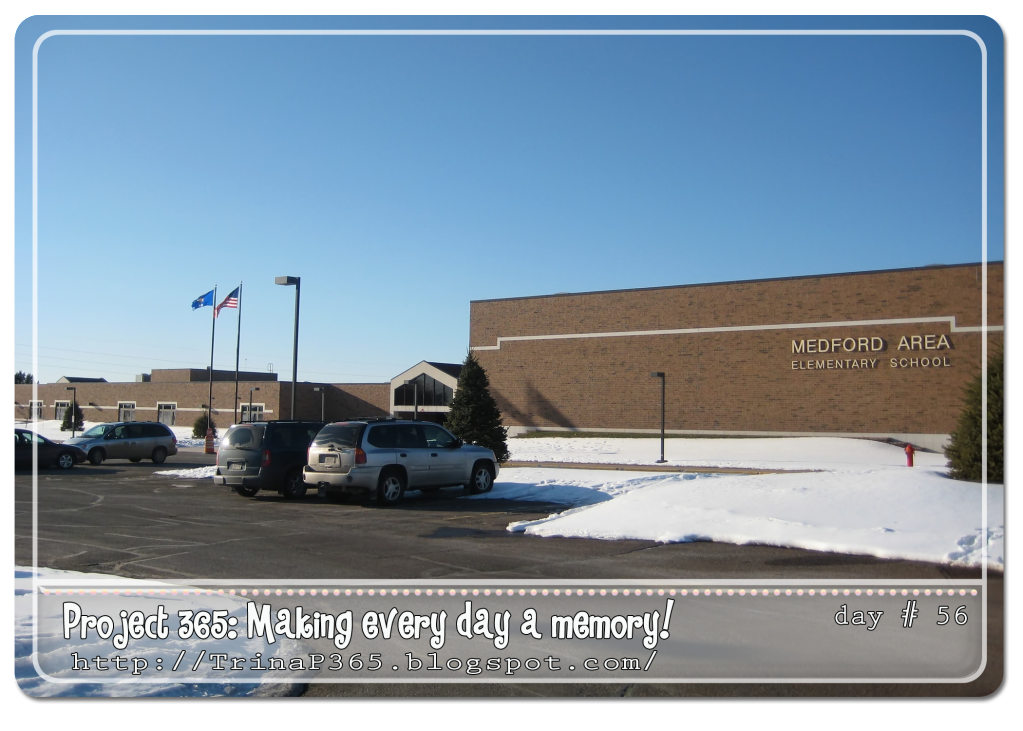 Day 57: TGIF! :) Tom joined us at the Coffee Shop this week - the kids sure got a kick out of having him there too! They decided they wanted to sit up at the high tables - so we thought we'd give it a try - of course they loved it! :)
Day 57 (photo 2): It's the kick-off of the Women's Weekend here in town!! We were joined by Mel this year - and she was soooooo fun to hang out with! We started out with a wine tasting tour of Medford - thats 19 different stops! (we only made it to 12 since we had a late start!) But we had fun touring all the different shops and of course sampling all the different kinds of wine!
Day 58: Mel, Ann & I getting all dolled up (at least our make-up) after all our classes today (especially needed after ZUMBA this morning! We also did cake-decorating and no-knead bread! Super fun classes! I was very glad that we chose those ones!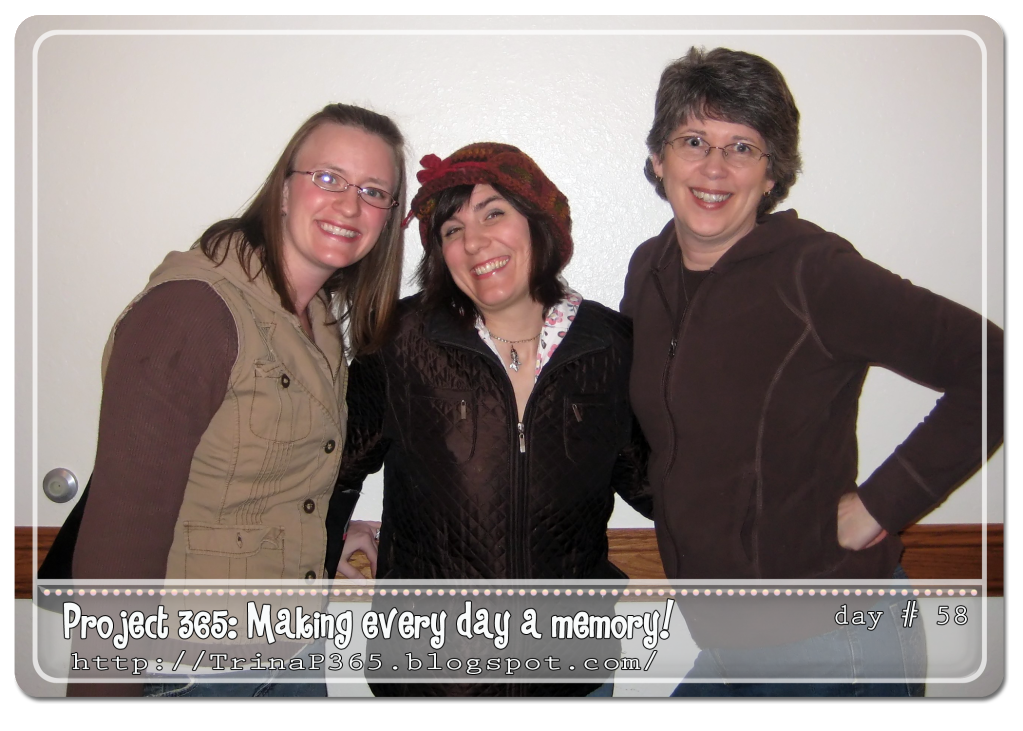 Day 58 (photo 2): One word: STUFFED! Check out all of those empty dishes! The "Taste of Medford" was DELICIOUS at the Veranda - all the area resteraunts come in and bring in samples of what they offer on their menu! YUMM! Ribs, desserts, sandwhiches, desserts, wraps, desserts, prime rib, and did I mention desserts? :)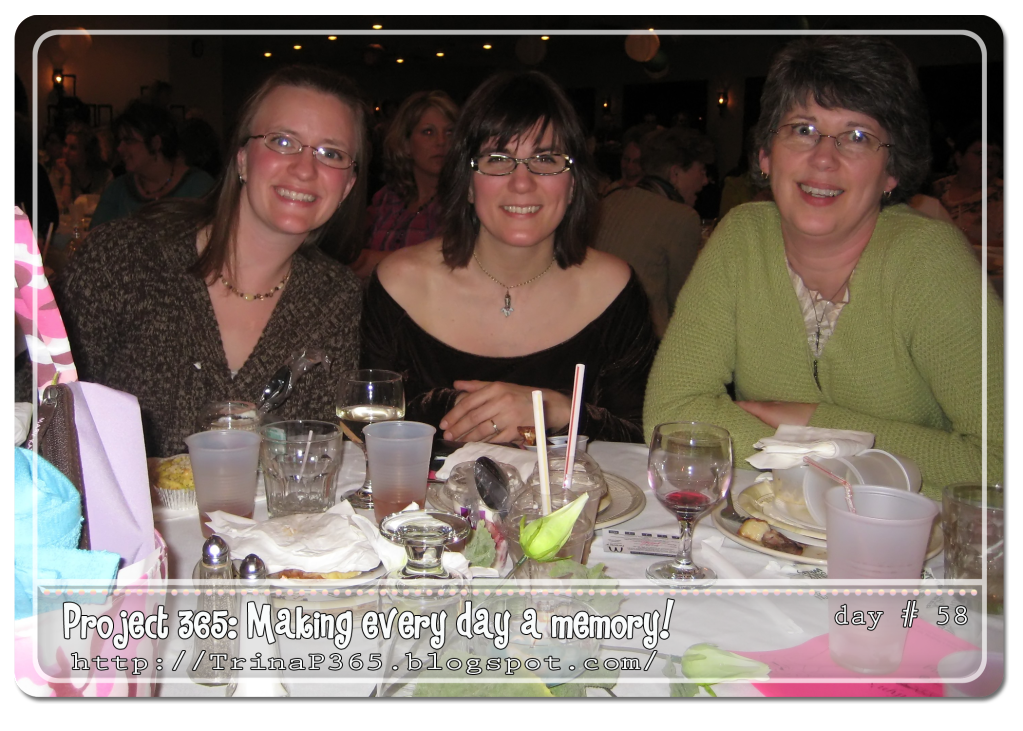 Day 58 (photo 3): Look at how pretty the wine glass looked w/ the lights! ahhh.....
Day 58 (photo 4): Of course the first thing the kids wanted to do when we got home was sample our cakes! Here are the kids w/ the cake that I decorated! Don't look too closely at the cake - by the time the frosting was to me it was pretty warm and "foamy" so it wasnt going on the best - but it was fun anyways - and the kids sure enjoyed it! LOL! Check out Kaylee's hair - can you tell she was with Grandpa & Dad all day - I dont think its even been brushed!!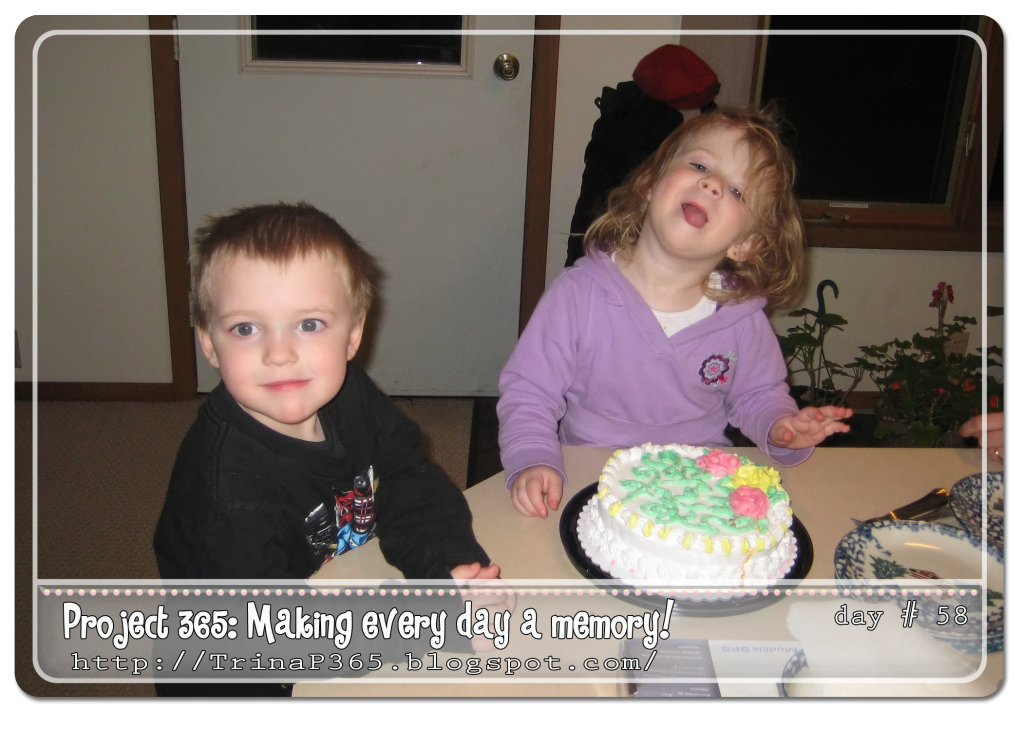 Day 59: Last day of Women's Weekend :( It's always sad to be done with our weekend off - but I look forward to being able to participate again next year! We ended our weekend with snowshoeing in the morning and a brunch at the Curling Club. No door prizes won this year :(