Wow we've made it to March already (and we're a week in at that!)
Day 60: Nothing like a little backyard sliding! Since it was so nice out, Dad cleared a path down to Grandpa's office for Trevor to sled down after supper!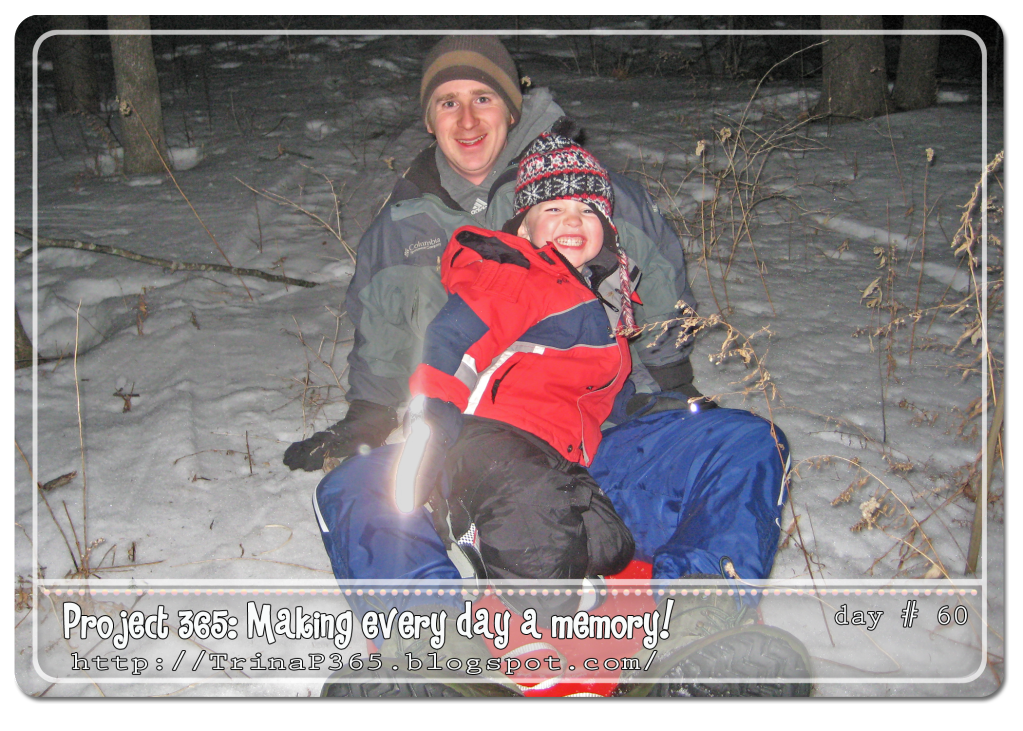 Day 61: Happy Birthday Dr. Seues! Dad helped out at the library again this year for Dr. Seues' birthday - he helped Paula Liske read a porcupine story to all the kids. Here are Trevor, Savannah, Peyton & Kaylee with Tom the Porcupine!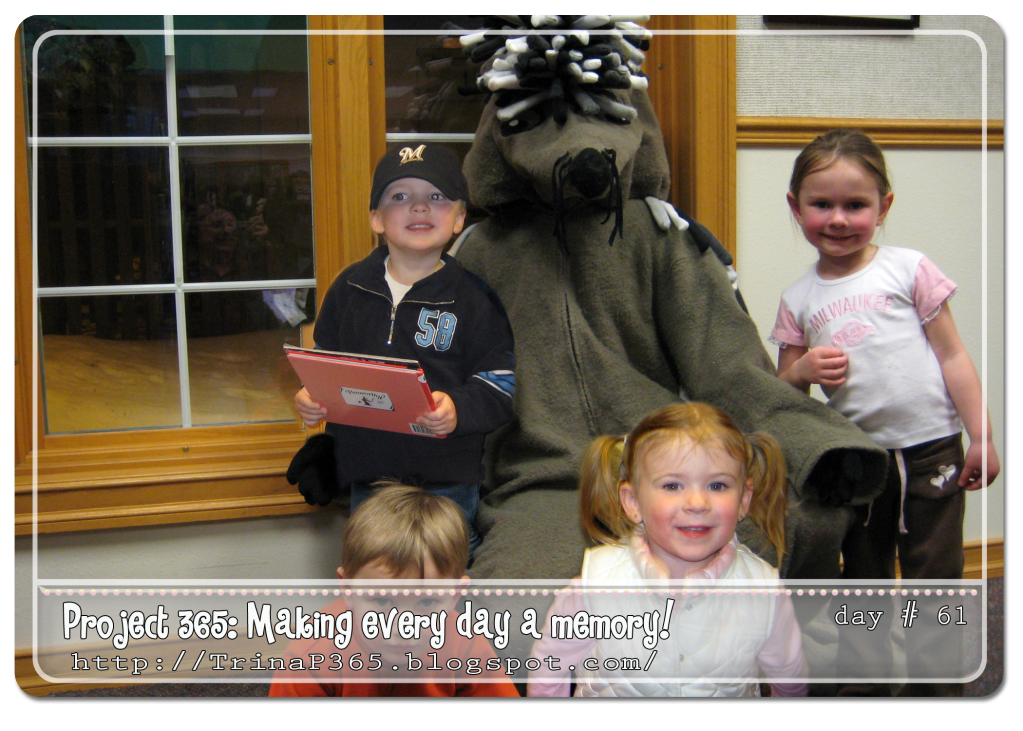 Day 62: Mom, Trevor & Kaylee met Paula in Wausau tonight for supper and some shopping. The kids love to get together with Paula-Walla!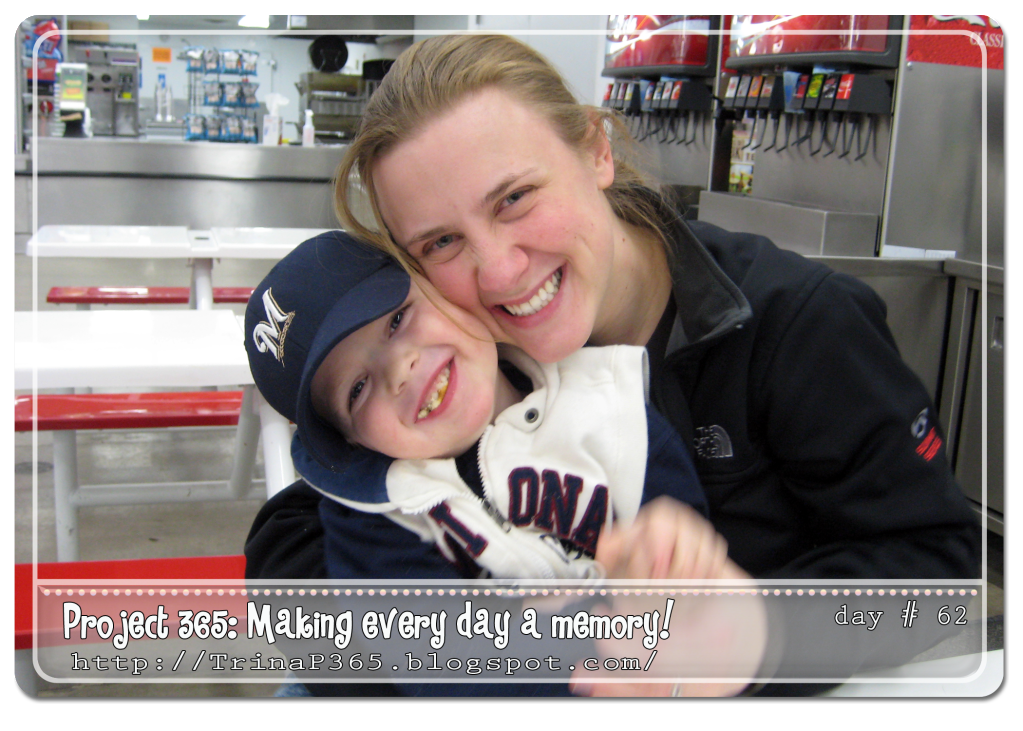 Day 63: Ms. Jahsman gave Trevor a special award today for knowing 12 different "B" words! She was very impressed!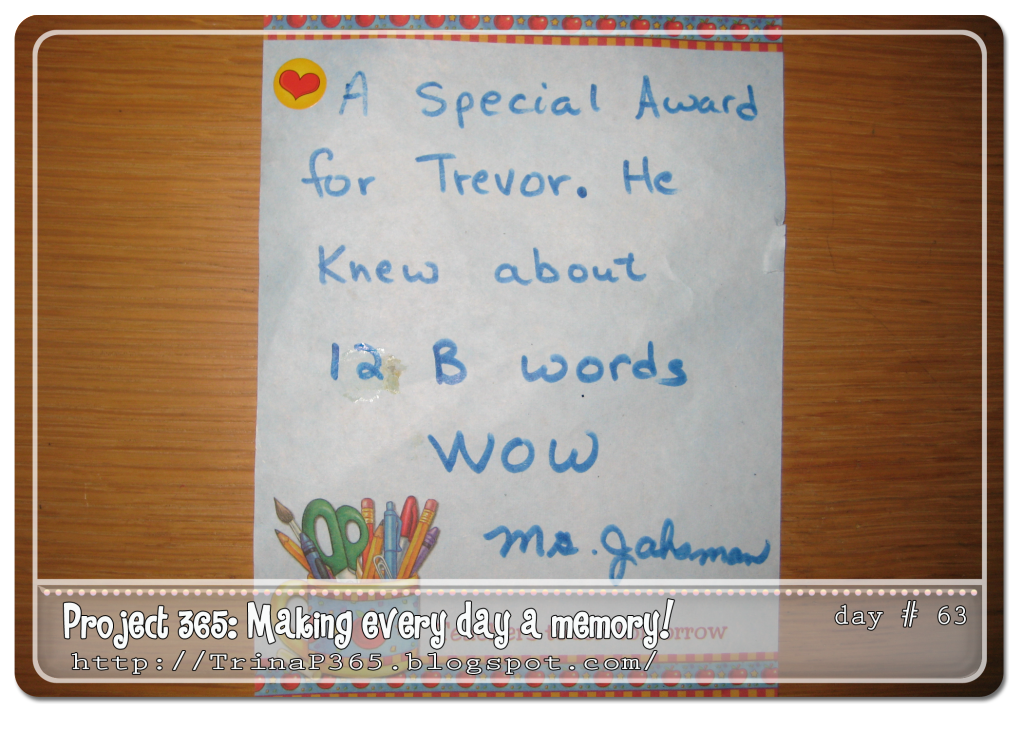 Day 64: A week of Mom having a cold & now she has a very itchy rash - the rash even made her hands swell up!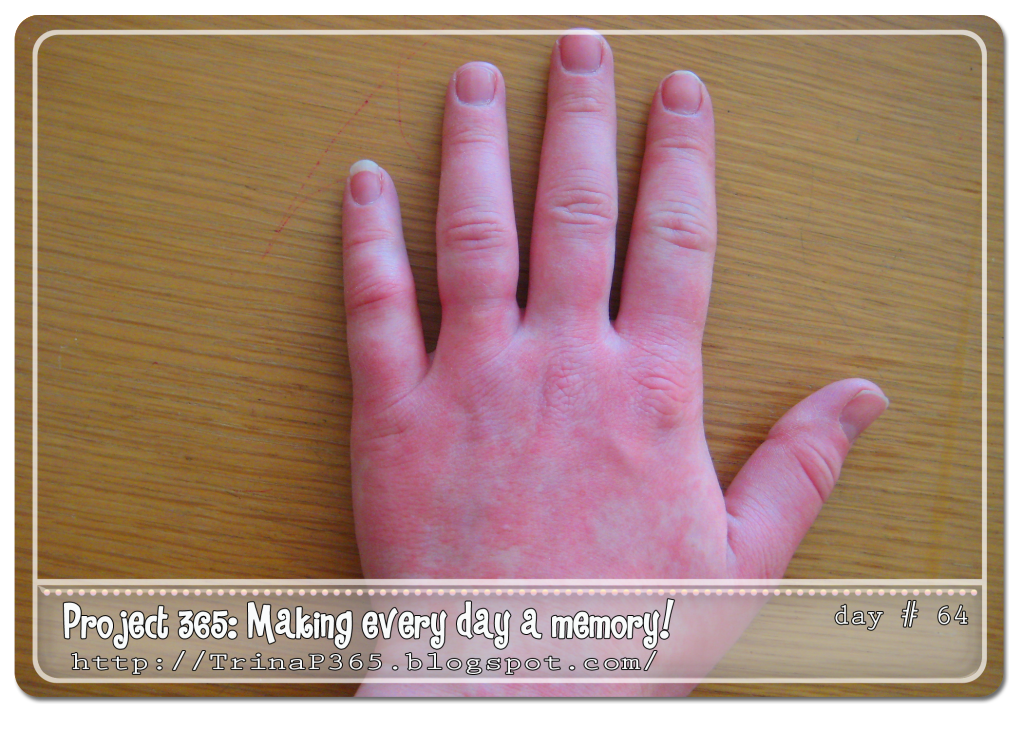 Day 65: Trevor & Katie had a great time on the kitty-cat this weekend! It's so fun when the Snyder's come up to visit! We sure wish they lived closer!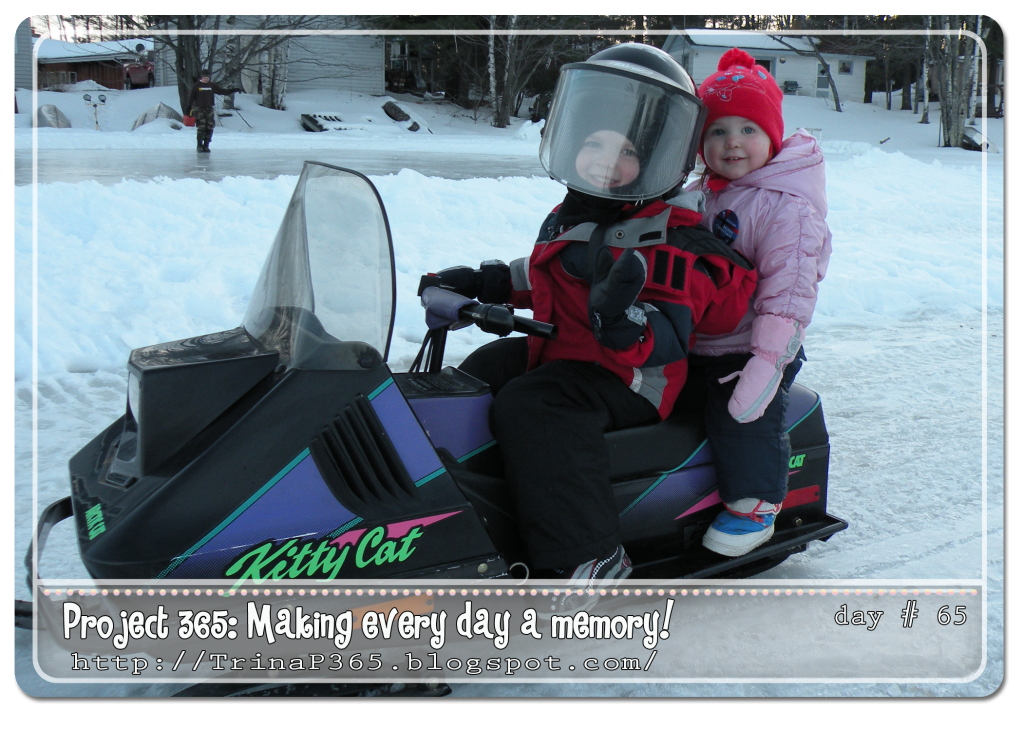 Day 65(photo 2): Trevor, Kaylee & Katie getting ready to go sledding - I'm glad I took the picture BEFORE they went down the hill - cuz it tipped at the end and Katie didnt want anything else to do with the sled after that!
Day 65 (photo 3): We had Grandpa Trent's birthday cake after supper tonight - even tho his birthday isnt until tomorrow! Didn't he do a GREAT job blowing out his candles?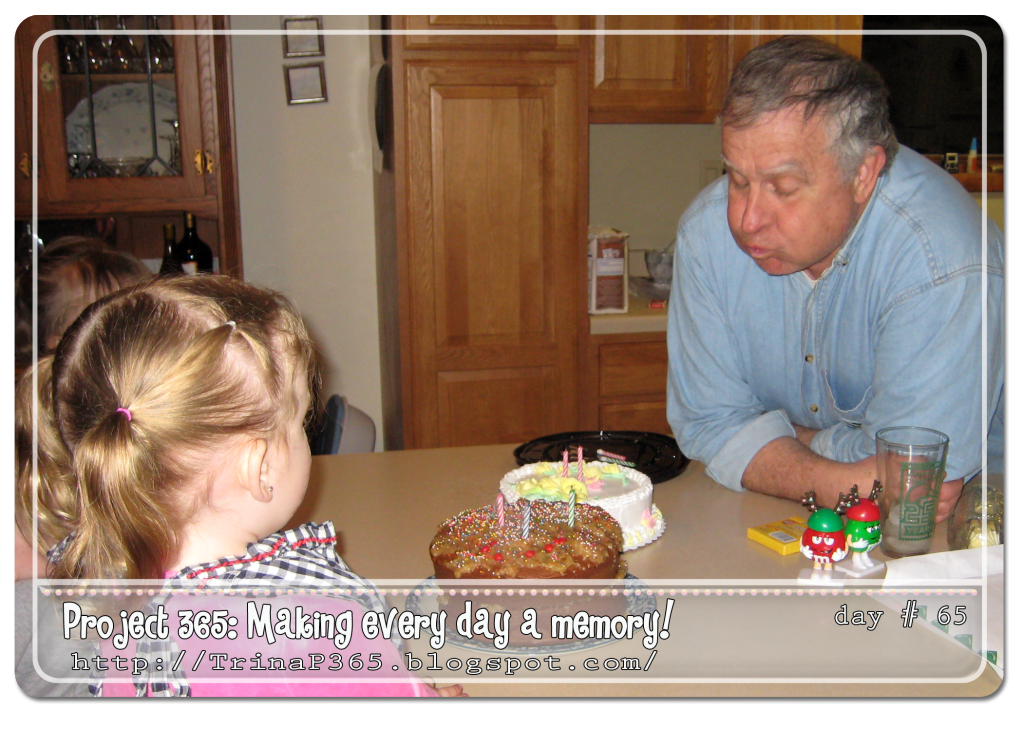 Day 65(photo 4): Trevor wanted to see Jeremy Zenner's big fish that he caught - and we tried to get a picture of him next to it - but everytime I tried to take the picture - he had to look at the fish and make sure it wasnt TOO close! Doesn't he look impressed? LOL!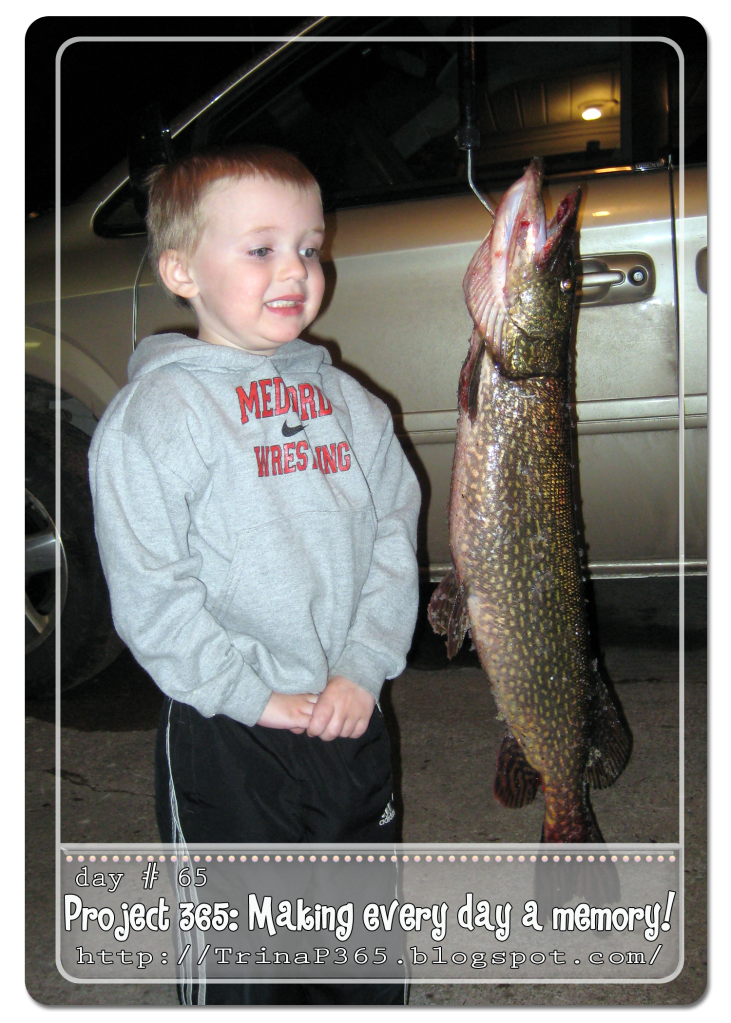 Day 66: Happy Birthday Grandpa Trent! Today we spent a lot of time outside enjoying the beautiful weather! The kids rode the Kitty-Cat, the wheelers with Grandpa Trent & Uncle John and even got in a little ice fishing!