Ok - HELP please - I'm struggling choosing just one (maybe 2) photos a day! It's hard when we go somewhere special or do something different to just narrow down the photos! Please comment and let me know which photos you think I should use! THANKS!!
Day 15: We headed to Paula & Aaron's today to spend the weekend with them! We're very excited! We left after Tom got off of work and ate some sandwiches in the car on the way! When we arrived the kids got a special treat of freezee's for their bedtime snacks! (have a photo of this - but not uploaded yet).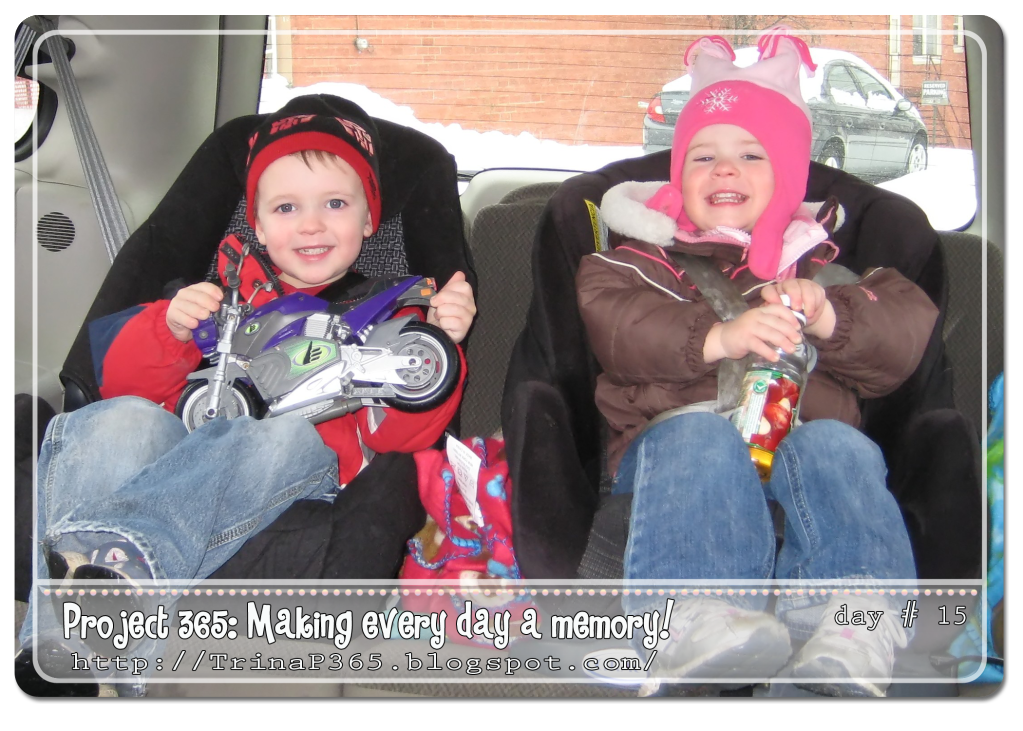 Day 16: Aaron had to work this morning, but the rest of us spent some good time outside enjoying the beautiful winter weather!! The first photo captures Tom narrowly blocking a big snowball thrown by Trevor! Nice shot Trev! The second photo shows Trevor, Kaylee & Paula playing "King of the Hill". The 3rd photo is of Kaylee making her snow angel. We then went tubing after Mass Saturday night - but we also went tubing on Sunday so I wanted a different picture - but I had to include it cuz it's pretty cute!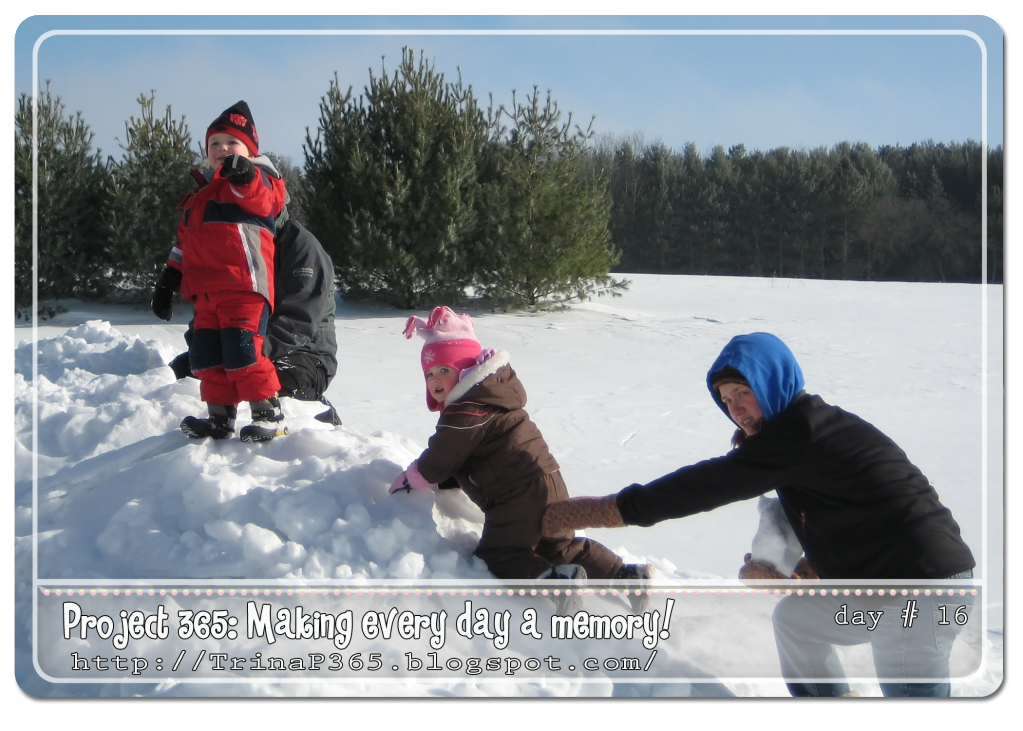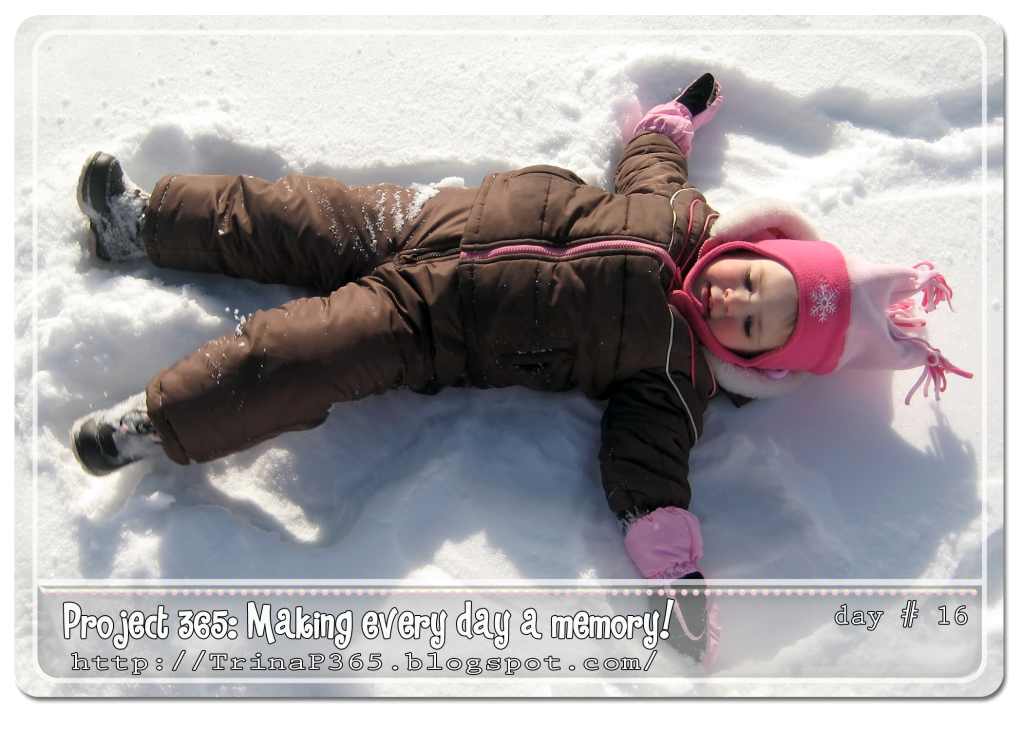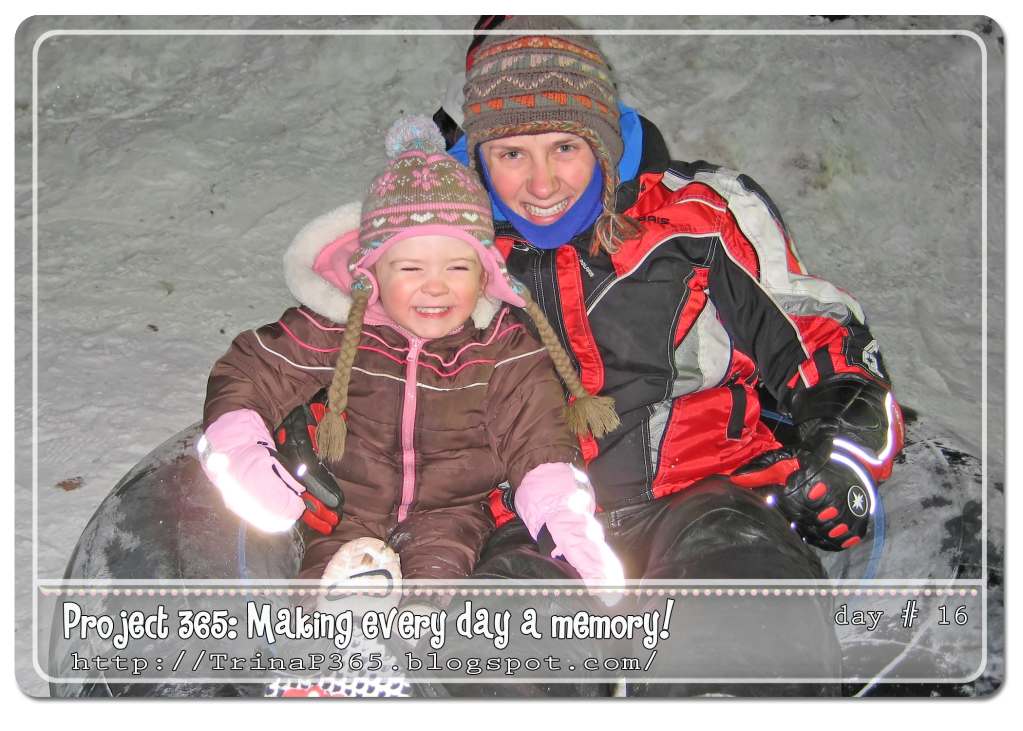 Day 17: We started the day with shaped pancakes made by Tom & Aaron - of course they got the "Mickey Mouse" pancakes in anticipation of our upcoming trip to Florida!! (photos 1 and 2) We then went tubing again at the hill at the fairgrounds. Yes, all four of us actually did go down the hill at one time!! (3rd photo). The 4th photo is Trevor's first time sliding down the hill "penguin style" - no sled! It was pretty hilarious to watch (we got some good videos too). I can't believe he was brave enough to try this! He'd then walk all the way back up all by himself! He's getting so big! The 5th photo is a good one of Tom & Kaylee - preparing to go down on the saucer - which Bug insisted on trying!!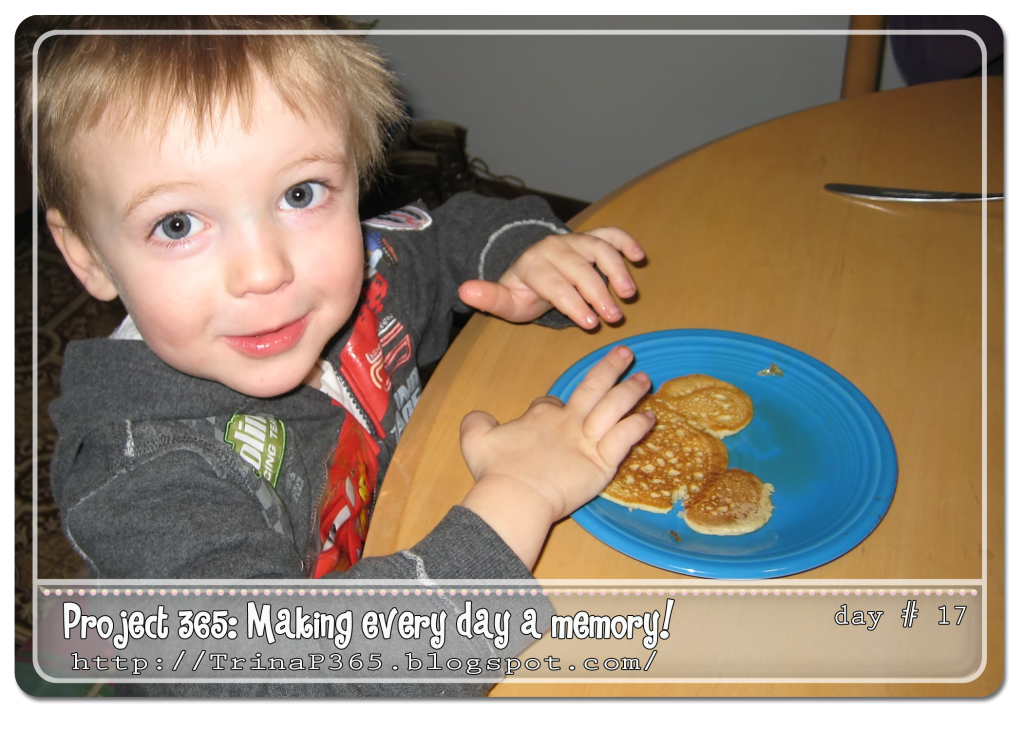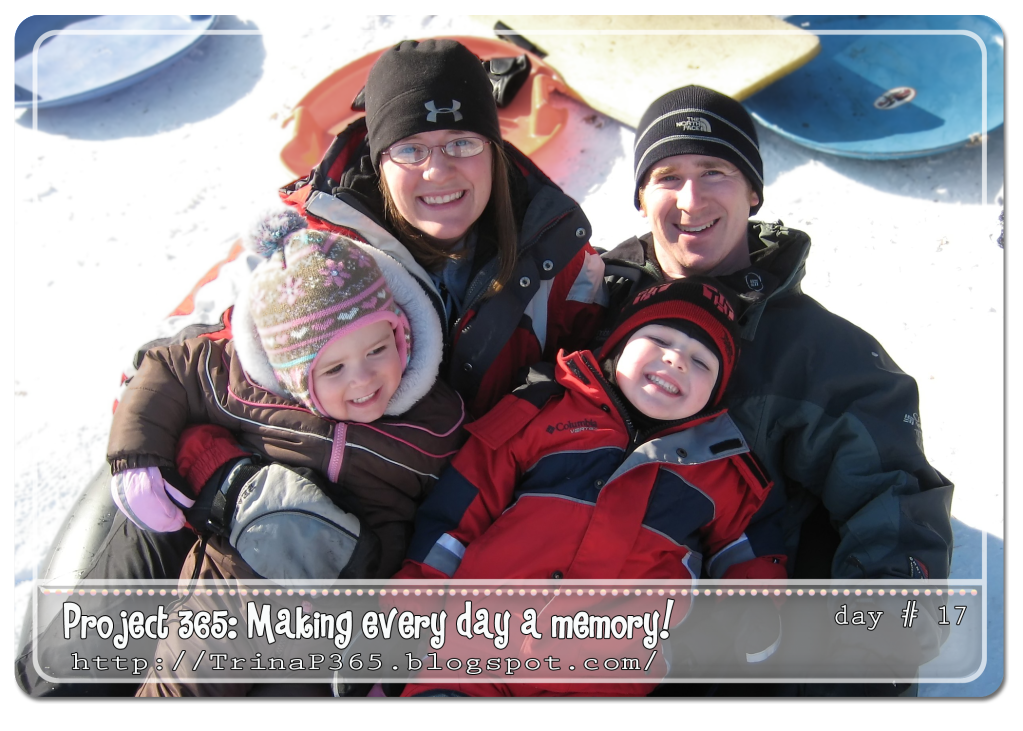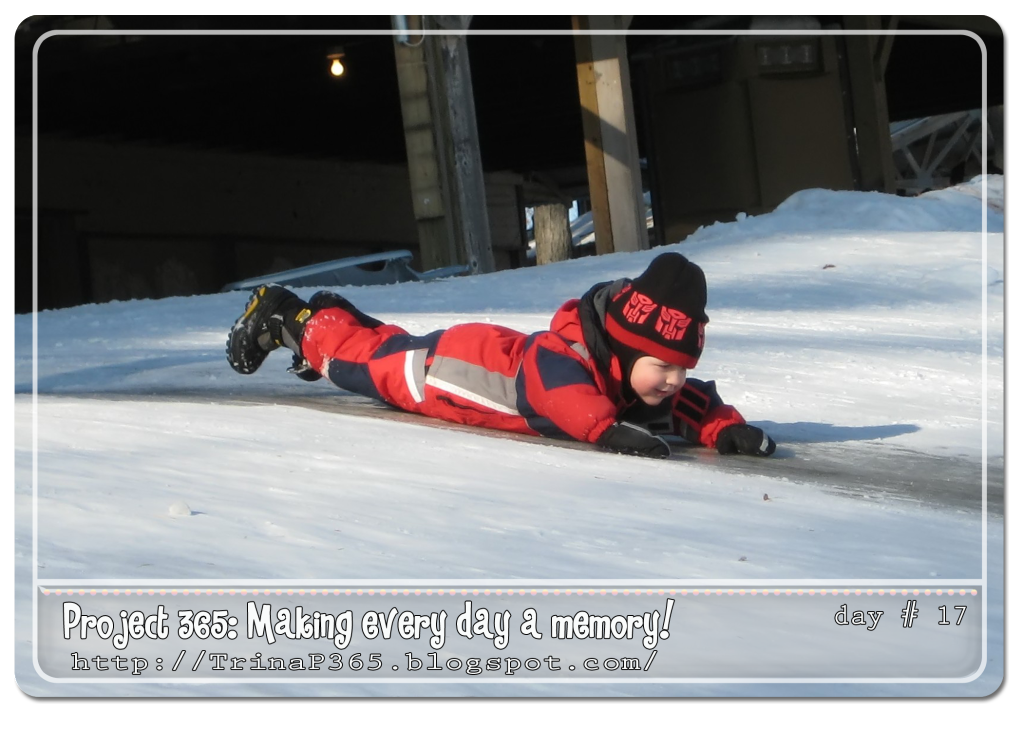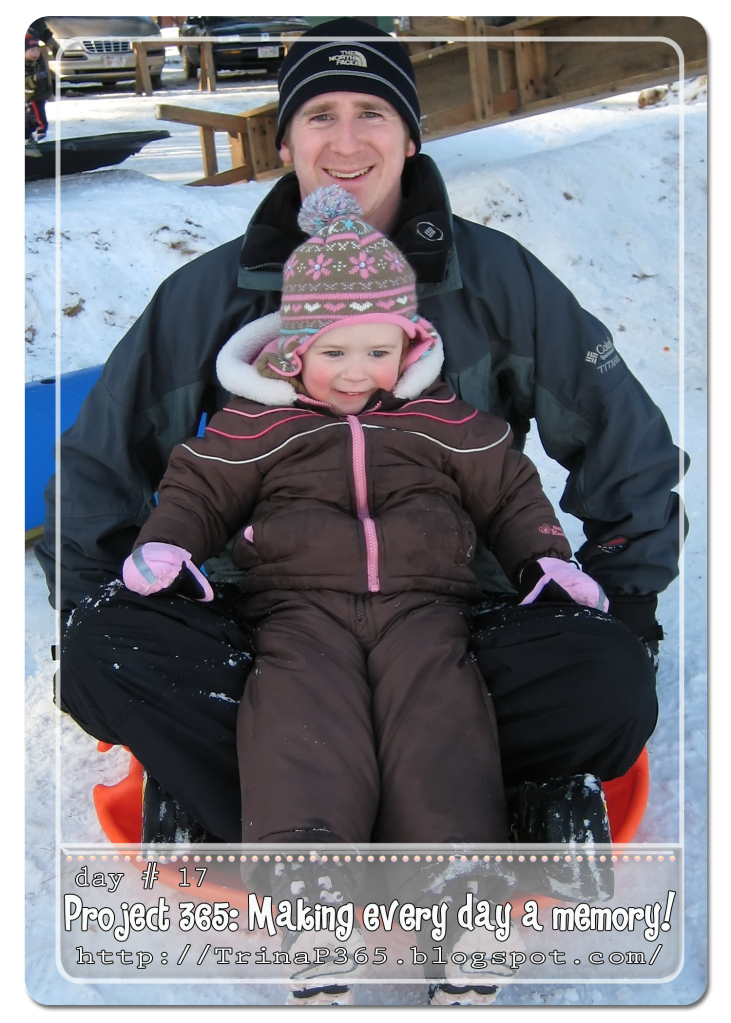 Day 18: So this is supposed to be about showing a typical day right - realistic as it may be? Well I took a few photos at Kaylee's check-up today - and she was in FINE 2-YO DRAMA QUEEN form! So I thought this photo showed it off (and showed off the shirt she was wearing - maybe she's getting a complex and shouldnt wear that shirt anymore....LOL) I had other ones where she actually looks cute - but thought this described our day better - she threw at least 5 different temper tantrums today! Grrr!
We also had the Brady's over for supper! We really should get back into the habit of hanging out with them more often - it feels like forever since we've gotten to do something with them!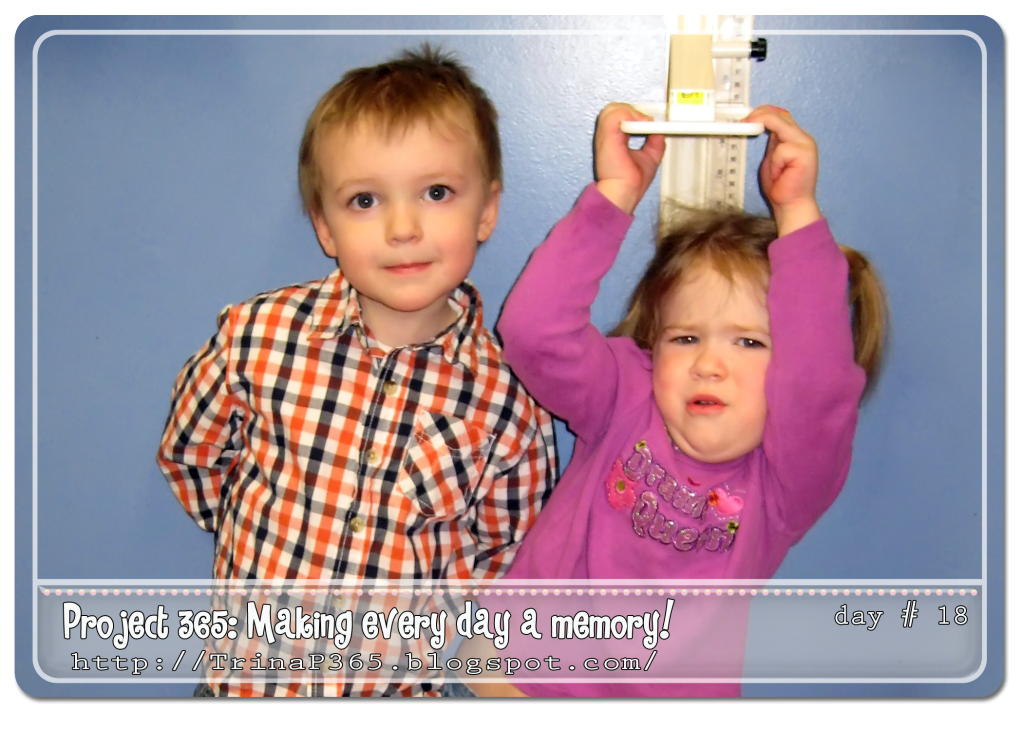 Day 19: Today was another busy day (what a week we're having!) We dropped Trevor off at school, then Kaylee and I went grocery shopping, and then to playgroup at McDonald's. Here is a pic of Kaylee with Peyton eating snack. We then picked up Trevor and had a lunch-date with some new friends from Trevor's school! It was fun!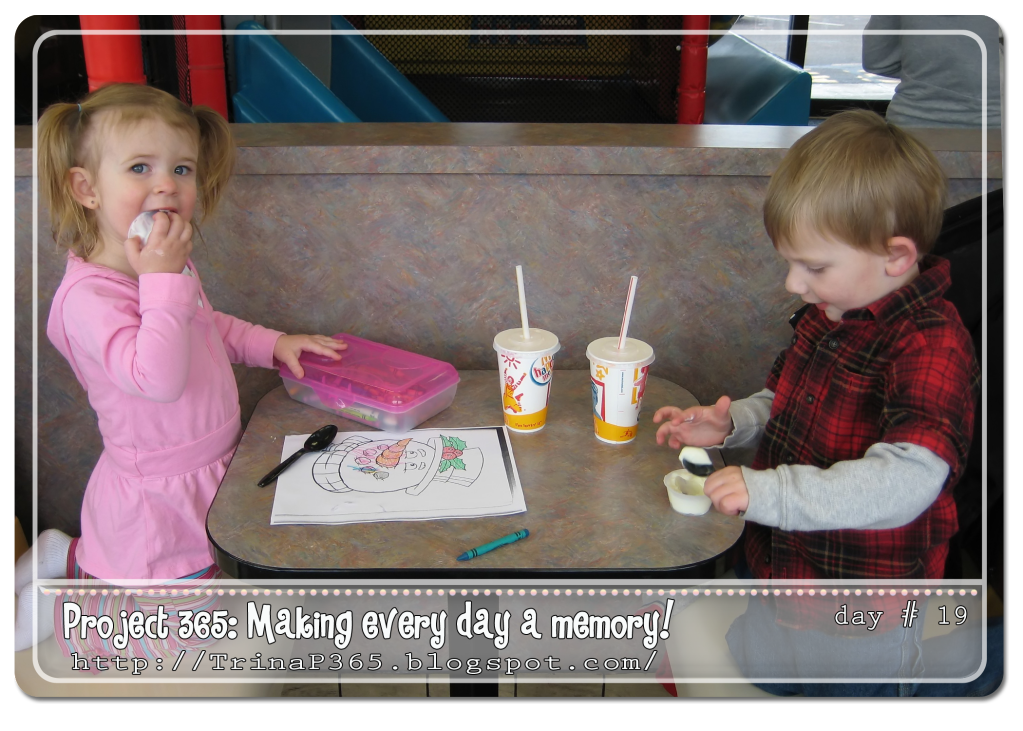 Day 20: Busy busy again! Today we dropped Trevor off, went to Mass & then to a Mom's group at our church - it was fun to go again - I hadn't gone in MONTHS! Another exciting thing was a fun package the kids got in the mail - some hand-made felted slippers! How fun are these!?!? Vickey did an awesome job making them - unfortunately Kaylee's are a bit too small on her - she says they squish her feet - so she had fun using them as puppets instead!! Vickey - is there anyway to stretch them a bit? They are soooooo cute!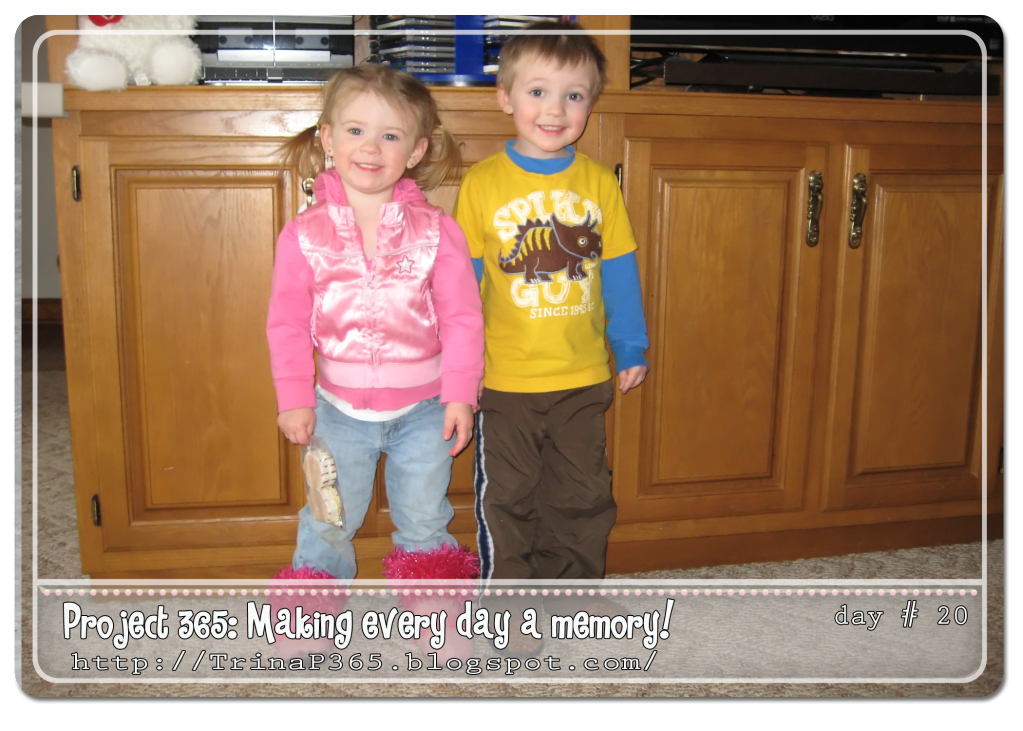 Day 21: A fairly typical Thursday - Trent & Ann took the kids out to eat at High View & Tom and I got to have a night to ourselves! :) Of course we went to Wal-mart - not sure why but we usually end up there if we don't have the kids! LOL! Then we enjoyed a winter walk - it was a bit windy - but if felt good to get some exercise. Here we are out in the cool air - gotta love self-portraits!!