Ok, here goes another week!! Do you think I should keep adding photos to this post, or create a new post everytime I add photos? Anyone have any ideas or suggestions? Not sure what is easier to follow! :) Anyways, here are my pics!
Day 22: YEAH! Grandma Hoppe came for a quick visit! Grandma Hoppe came today to spend one night with us! Tom & I got another night out (I could get used to this....too bad there's not a whole lot to do around here....LOL!) We went out to eat and then went ice skating & played cards out at Tom's parent's. Grandma Hoppe watched the kids (& made a mess out of the toy room!! LOL) ...oops...major red eyes! :S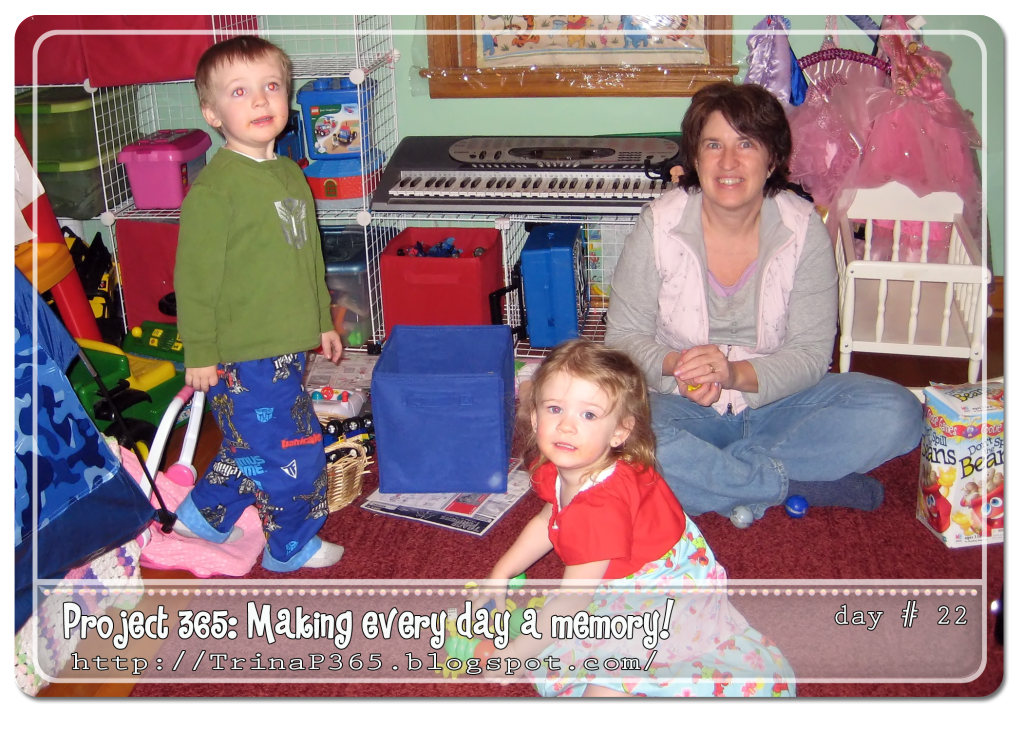 Day 23: Happy Birthday Peyton! Today is Peyton's 3rd birthday so we went to his house for his birthday party! This kid has been obsessed with Santa for over a year now and he wanted a "Ho Ho" Party - and his mom gave him one! (Check out his cute little Santa outfit he wore!) Good thing his birthday is so close to Christmas!
Day 24: Kaylee & Trevor LOVE Uncle John!! They're always so excited when he comes "home" for the weekend! I still have to decide on which photo to use (I'm doing my best at only choosing ONE per day....but its hard sometimes!) The 1st photo is UJ reading books to the kids on the couch & the second is UJ and the kids making a snowman in the sticky sticky snow we got today!